The Great Rancho Vignola Giveaway!
December 1, 2012
This past week has been pretty nuts at my house. And I mean that literally. On Friday, I received a delivery 475 pounds of nuts and dried fruit, which some friends and I spent the evening sorting out and sharing amongst ourselves.
It sounds pretty nutty (read: mentally unhinged), doesn't it? Well, once you have tasted a "new crop" nut delivered from Rancho Vignola, you will understand that the only intelligent thing to do is to order a direct shipment to your house so that you never have to eat another flavourless or rancid supermarket nut, ever.
I now have squirreled away enough freshly-harvested and delicious almonds, hazelnuts, walnuts, cashews, etc etc, to last our family the whole year. And, believe me, even after a year of storage, these nuts are still way fresher than most of what you can buy in the store. I have been using Rancho Vignola nuts and dried fruit exclusively for the last 6 years and I have loved every minute of it!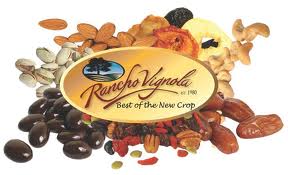 So, being such a huge fan and supporter of Rancho Vignola (and for more than just the freshness of their nuts), I am thrilled to announce my first blog giveaway! Rancho Vignola is offering a basket of mixed dried fruits and nuts valued at $150 to one of my blog readers!!!
To qualify for delivery, you must have a Canadian shipping address. Enter the draw in one of three ways:
(1) comment on this post
(2) post to my facebook fanpage
(3) tweet with the hashtag #chefheidisnuttygiveaway to @chefheidifink
Giveaway ends by midnight, Saturday, December 7th, and a winner will be announced Sunday, December 8th. That's one week, folks!
(Non-winners will be very happy to note that this giveaway is running simultaneously with Rancho's December online Harvest Event. No minimum order required! So, if this has piqued your interest, you can order some to try.)
In the meantime, keep checking the blog this coming month for recipes and ideas for some the amazing products I get every year from RV. It may be the baby pecan butter cookies, or the sour cherry chocolate pound cake, or the hazelnut flour torte, or….