Rhubarb Cookie Crumble
June 17, 2015
Rhubarb Cookie Crumble is your next baking adventure. This homey dessert combines tart local rhubarb baked with a delicious topping that resembles chewy-crispy bits of oatmeal cookie.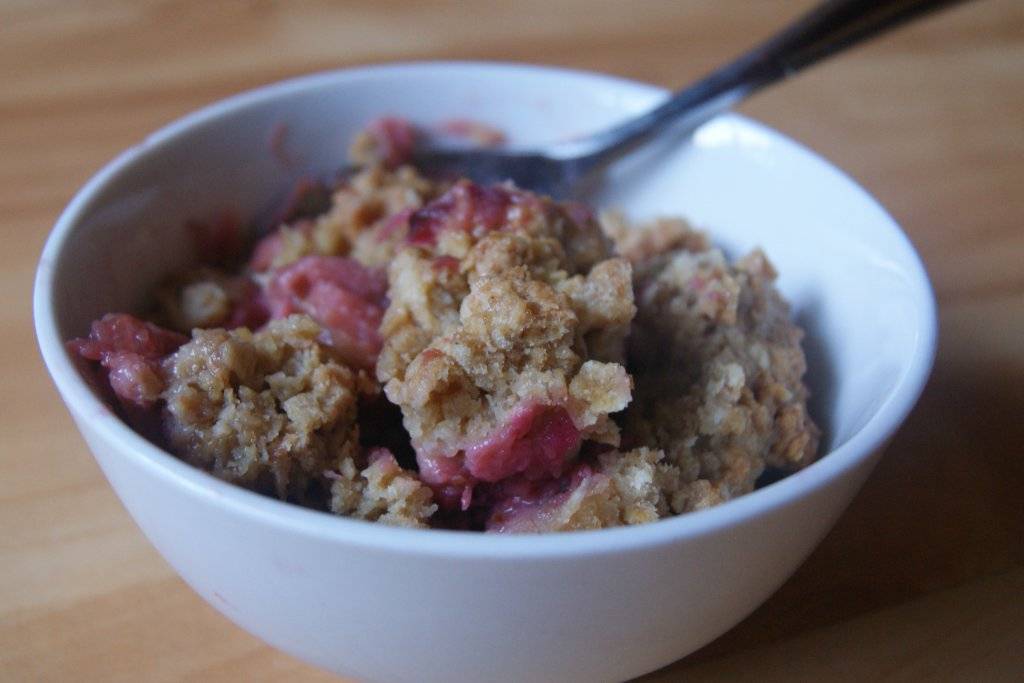 This recipe for Rhubarb Cookie Crumble required more testing than almost any other recipe on my blog, with the possible exception of Cranberry-Orange Custard Bars.
I'm still trying to decide if the repeat testings were due to my recipe not being good enough, or being in fact TOO GOOD. Because I'm not beyond "testing" recipes that really need no further change, only for the excuse to eat more servings of it than any reasonable person would. In this case, tart local rhubarb topped with a delicious mixture that resembles chewy-crispy bits of oatmeal cookie. Right? Who wouldn't want to test that recipe eight times? Just to be sure. To be very sure.
Of course, I did need to iron out a few details. Like how much vanilla to add, and whether the rhubarb should be unsweetened or lightly sweetened, and whether pecans or toasted coconut would add the right finishing touch. But really, this recipe was tasty from the beginning, and has only gotten better.
Which means, I think you should make it, even if rhubarb season is almost behind us: Buttery, vanilla-scented oatmeal cookie crumble baked to perfection over a mound of lightly-sweetened rhubarb. Serve it warm with vanilla ice cream, or cold the next day for breakfast. Either way, you will be in Rhubarb Cookie Crumble heaven.
RHUBARB COOKIE CRUMBLE


Serves 8 (who am I kidding? Realistically 4 to 6)
This recipe doubles easily to fit into a 9 X 13 inch pan.

ingredients
5 cups chopped rhubarb
2 Tb granulated sugar
~
1 cup quick oats
3/4 cup all-purpose flour
1/2 cup granulated sugar
1/3 cup packed brown sugar
1/4 tsp sea salt
1/2 cup shredded unsweetened coconut
6 tablespoons unsalted butter, softened
1 egg
1-1/2 tsp vanilla extract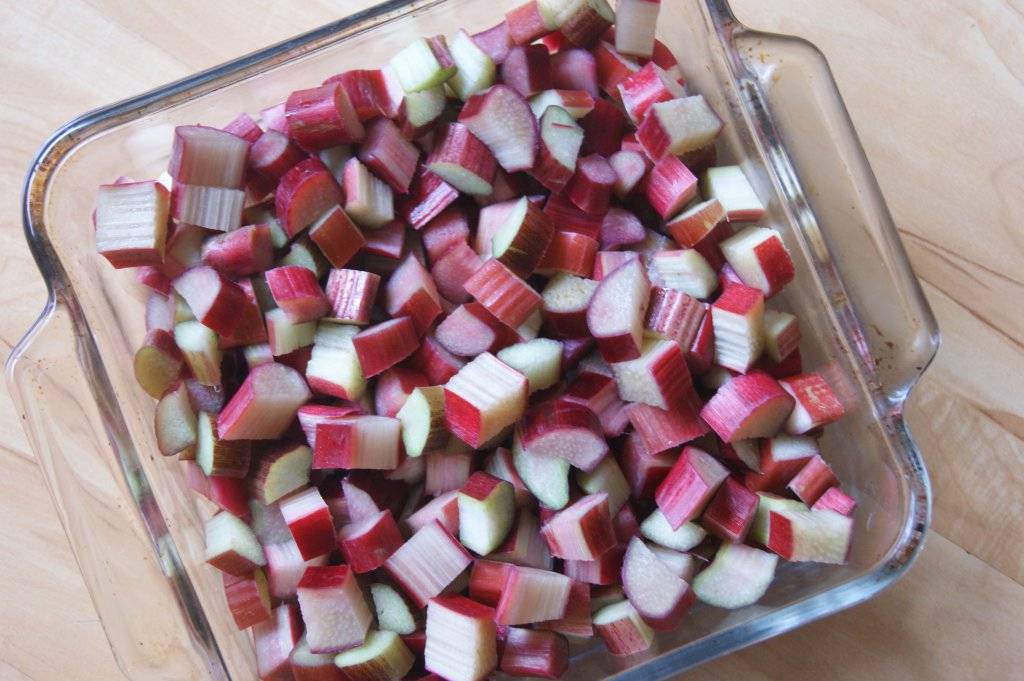 instructions
1. Preheat oven to 350 F. Place the prepared rhubarb into a 8 X 8 inch glass or Pyrex baking dish. Sprinkle with the 2 tablespoons of granulated sugar and mix well.
2. In the bowl of a standing mixer fitted with the paddle attachment, place the oats, flour, granulated sugar, brown sugar, salt and coconut. Blend on low until thoroughly combined. Add the softened butter and mix on medium-low speed until butter is incorporated evenly, and mixture resembles damp sand.
3. In a separate small bowl, whisk together the egg and the vanilla until evenly blended. With the mixer running on medium-low speed, pour the egg mixture into the bowl and mix until the mixture resembles cookie dough.
4. Use your hands to break up the "cookie dough" into small crumbles and scatter all over the prepared rhubarb in the glass baking pan. Press lightly. Place dish in preheated oven and bake for 35 to 45 minutes, rotating pan once during baking, until rhubarb is juicy and bubbling, and crumble topping is crisp and golden brown. Remove from oven and place on wire rack to cool. Let cool at least 30 minutes before serving.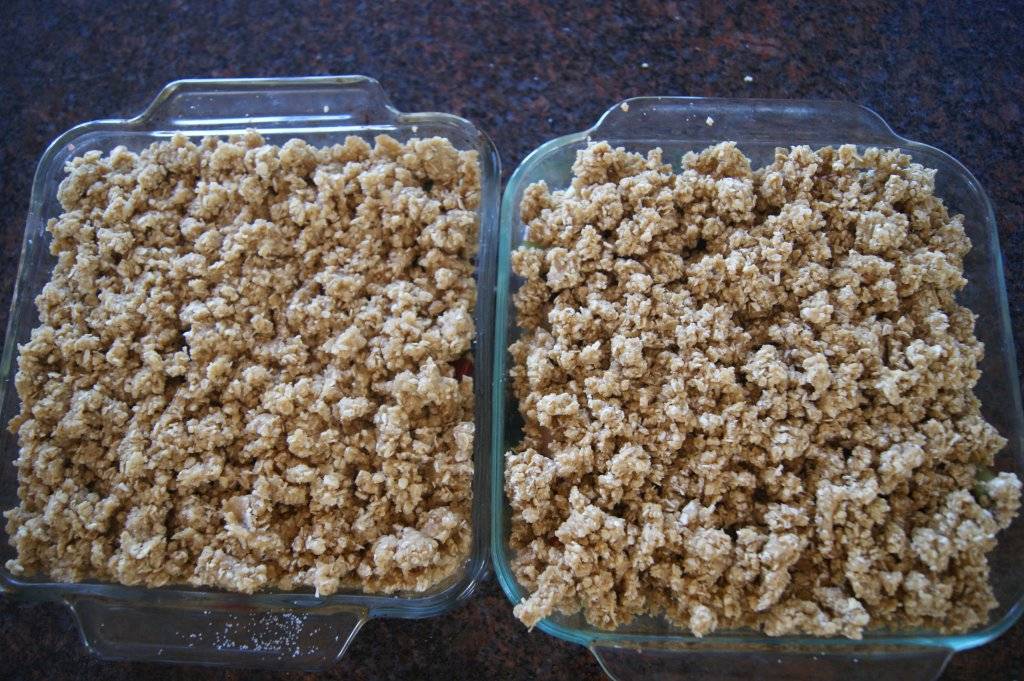 You May Also Like These Recipes:
Categories:
Baking
,
Baking and Treats
,
Breakfast ideas
,
Cooking in Season
,
Cooking with Kids
,
Early Spring
,
Feature Ingredients
,
Foodgasm!
,
Fruit
,
Heidi's How-To
,
Kid Friendly
,
Late Spring / Early Summer
,
Locavore Gone Loca
,
Recipes