Blueberry Shortcake
August 6, 2010
This divine blueberry shortcake recipe combines the intense blue-currant flavour of cooked blueberries with the sweet-tart crunch of fresh blueberries, for a perfect summer dessert.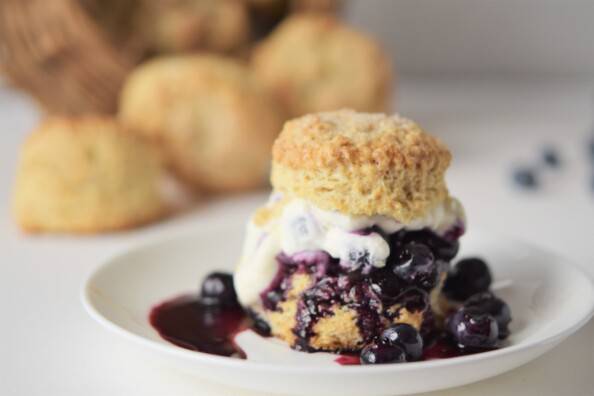 The second best dessert in the world, in my opinion, after homemade Strawberry Shortcake, is my own Blueberry Shortcake. Not only because I adore fresh blueberries, but because I have a secret way of making the fruit filling for this dessert that knocks my blueberry-loving socks off.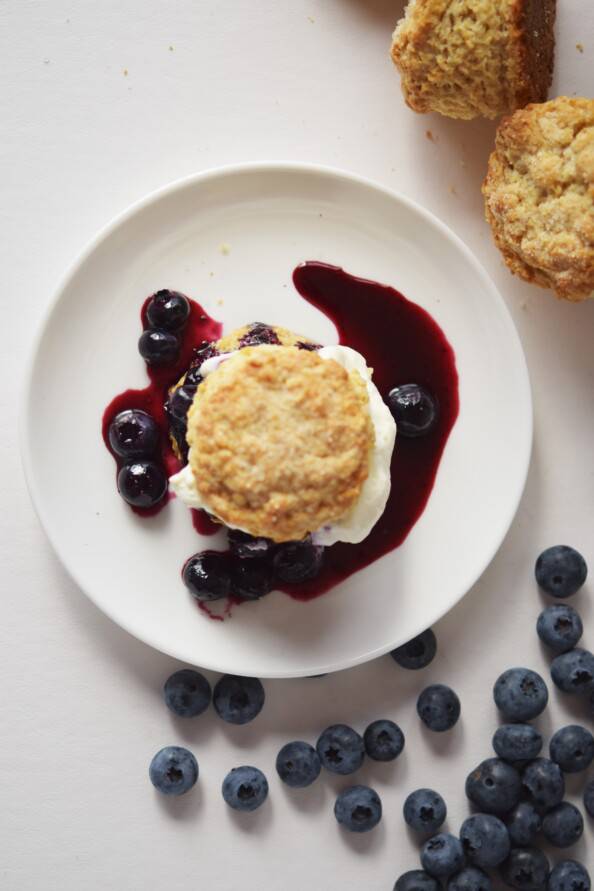 A combination of cooked and fresh berries takes this to the next level. It is the best of both worlds: intense concentration of blueberry juices combine with refreshing pops of uncooked berry. With a buttery, wheaty biscuit and fresh sweet cream, I can think of no better way to celebrate our wonderful blueberry season. Enjoy while it lasts! (I'm still loving the last of my 110 pounds of blues from Ruby Red Farms).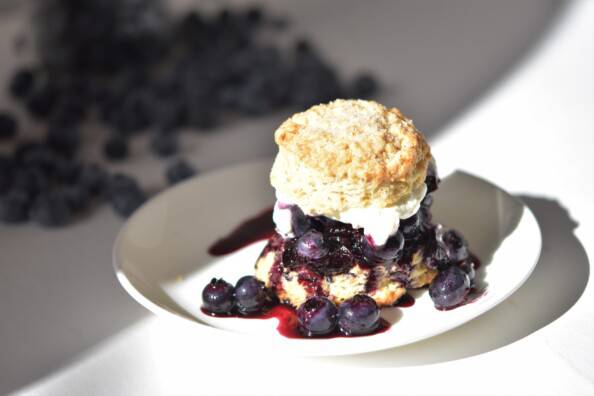 FRESH BLUEBERRY SHORTCAKE
makes 8 to 12 servings
This simple and delicious summer dessert can be made in advance and assembled at the last minute to maintain freshness. The individual parts can be made in advance.
Shortcake
1-1/2 cups (210 g) all-purpose flour
1/2 cup (70 g) whole wheat flour (or more all purpose flour)
1/2 tsp (2.5 ml) salt
1/2 tsp (2.5 ml) baking soda
2 tsp (10 ml) baking powder
4 Tb (60 ml, 50 g) sugar, divided
1/2 cup (114 g) cold unsalted butter
1-1/4 cup (300 ml) plain whole milk yogurt or sour cream
Preheat oven to 400°F.
In a medium bowl, whisk together all dry ingredients, using 3 tablespoons (45 ml) of the sugar, and reserving the remaining sugar. Cut cold butter into the dry ingredients until the mixture is crumbly, with pieces of butter no bigger than small peas. Quickly stir in 1 cup of the yogurt or sour cream until mixture holds together. If the mixture is too dry, stir in the remaining 1/4 cup of yogurt or sour cream. You may need to use your hands to knead the mixture together.
Turn dough out onto lightly floured countertop and gently pat into a disk about 1/3-inch thick; fold dough in half and pat out again. Cut out biscuits with round biscuit cutter (use the 2-inch or 3-inch size). Place biscuits on a parchment-lined baking sheet. Sprinkle tops of biscuits evenly with remaining 1 tablespoon of sugar.
Bake in the preheated oven about 15 minutes, until golden. Remove to a wire rack to cool.
Blueberry Filling
This is where I break rank with all other blueberry shortcake recipes. I cook half of the blueberries to bring out that rich fruity purple flavour they have when cooked. But I still keep half of the berries raw, to enjoy their crunchy burst of fresh juiciness.
8 cups (4 pints, 3 lb, 1.25 kg) fresh ripe local blueberries
1 cup (200 g) granulated sugar
1/2 cup (120 ml) water
Place 4 cups (2 pints, 600 g) of the blueberries in a medium pot. Add the sugar and water. Bring to a boil, stirring constantly, and boil mixture for about 1 minute. Turn off heat, but leave berry pot on the element. It will continue to boil and simmer in the residual heat of the burner for another few minutes. Keep stirring. When the simmering has subsided, remove pot from heat and pour berry mixture into a large metal bowl. Allow mixture to cool for about 20 minutes.
When berry mixture is no longer hot, add the remaining 4 cups of berries (these ones are still raw) and stir well. Resist the urge to eat the berry mixture at this point.
Whipped cream
2 cups (500 ml) heavy (whipping) cream, chilled
2 Tb (30 ml) berry sugar (superfine sugar)
1/2 tsp (2.5 ml) vanilla extract (optional)
Use a large chilled bowl to whip the cream. The cold will help the cream whip up faster.
Pour the cream, sugar and vanilla (if using) into the chilled bowl. Use a hand-held electric mixer or a balloon whisk to whip the cream until it has thickened and makes soft peaks. (Alternatively, use a standing mixer such as Kitchen Aid).
Assembly
Cut a biscuit in half cross-wise. Place both halves, cut sides up, on a plate.
Spoon a generous portion of berries, along with the lovely juice, onto the bottom half of the biscuit. Drizzle a bit of juice on the top half as well. Luscious blueberry juice will run all over the plate, but that is all to the good. The better for licking up later.
Next, dollop on some whipped cream onto the blueberries covering the bottom half of the biscuit. Cover the whipped cream with the top half of the biscuit, now flipped cut side down.
If you like, garnish the top with a wee dollop of whipped cream and a drizzle of blueberry juice from the filling.
Eat.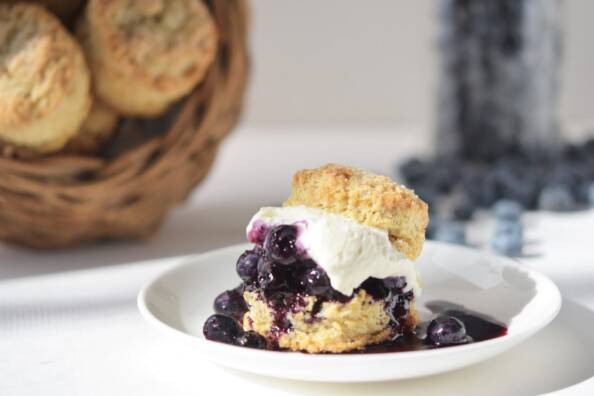 You May Also Like These Recipes:
Categories:
Baking
,
Baking and Treats
,
Birthday
,
Cooking in Season
,
Feature Ingredients
,
Foodgasm!
,
Fruit
,
Fruit
,
Heidi's How-To
,
Kid Friendly
,
Late Summer / Early Fall
,
Local Harvest
,
Locavore Gone Loca
,
Operation Use-It-Up
,
Recipes