My Granny's Lemon Curd
May 7, 2020
This delicious, velvety lemon curd has the perfect balance between lemony and sweet, with a smooth buttery finish. A family favourite for four generations!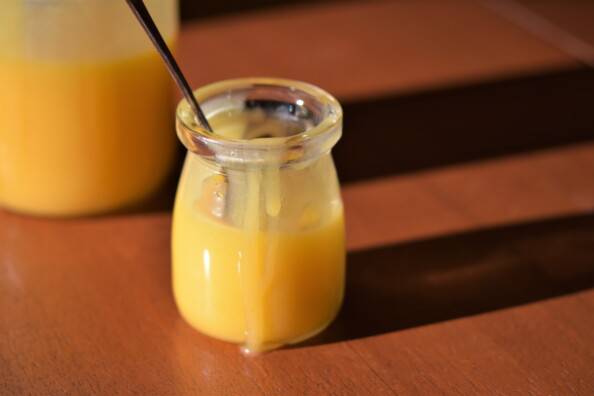 My Granny used to call her recipe 'lemon butter' rather than lemon curd. I know this is a regional language difference, but I like to think she used the term because it describes her lemon curd to perfection: smooth, unctuous, buttery, delicious, hitting the right balance between lemony and sweet.
This recipe has been a favourite in our family for four generations now, passing from my English Gran all the way to my children and nieces and nephews. It's a particular favourite with my sister, for whom I make a jar every Christmas.  . . but she has to hide it from her children, who will eat the entire batch with a spoon!
'By the spoon' is how we have been eating it lately. Since the stay home order started right during citrus season, I made this sunny, buttery lemon curd several times. Pure flavour of comfort. We ate it with berries, on scones, on lemon chiffon cake, stirred into ice cream, and by the spoon.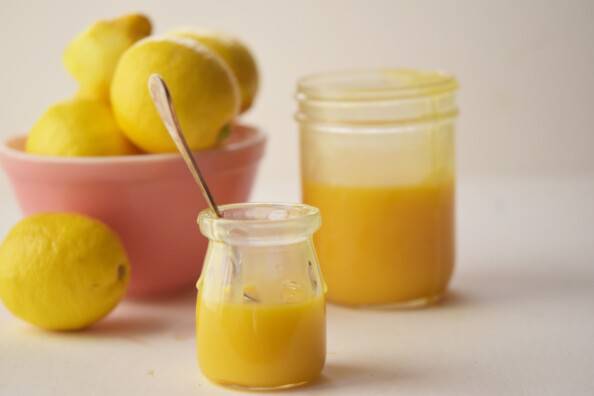 It is one of our most beloved recipes. The perfect play of lemon to butter, the slightly thickened but still pourable consistency, the beautiful yellow colour. This recipe is so good that it has appeared on the blog twice before! Once as the filling for Lemon Feather cake; next, in a Meyer lemon variation, as the filling for my Strawberry Pavlova. Now it is time to make it just for its own sake – buttery lemon perfection.
MY GRANNY'S LEMON CURD
Makes approximately 3 cups.
This delicious, velvety lemon curd has the perfect balance between lemony and sweet, with a smooth buttery finish. A family favourite for four generations!
ingredients
2 cups (400 g) granulated sugar
3 Tb (45 ml) finely grated lemon zest (from 2 to 3 lemons)
2/3 cup (160 ml) freshly squeezed lemon juice
¼ tsp (1 ml) salt
3 whole eggs
2 egg yolks
1 cup (227 g) cold unsalted butter, cut into cubes
instructions
Fill a medium pot about 1/3 of the way with water. Bring to a boil, reduce heat to a bare simmer and place a medium bowl directly over the pot. This is a make-shift double boiler.
To the bowl of this make-shift double boiler, add the sugar, lemon zest, lemon juice, and salt. Stir until sugar dissolves.
In a separate bowl, beat the whole eggs and egg yolks until frothy. Slowly pour in about 1 cup of the heated lemon mixture, whisking all the while. This helps temper the eggs and keep the eggs from curdling when they are added to the whole mixture.
Slowly pour in the egg mixture into the bowl with the remaining lemon mixture, whisking the whole time. (The bowl should still be over the hot water). Cook, stirring almost constantly, about 6 to 9 minutes, until mixture is thick enough to coat the back of a spoon.
While this is cooking, have ready a third clean bowl with a fine-mesh sieve hanging over it. Once the curd is thickened, immediately remove from heat and pour through the sieve into the clean bowl, pushing gently with a spatula if necessary. This step removes the bits of lemon zest and any bits of over-cooked egg that may have happened. Remove strainer.
Immediately whisk in the cold butter into the lemon curd until it is melted and the curd is smooth. You can let the curd cool in the bowl before pouring into a glass jar and storing in the fridge. This will last about 10 days in the fridge.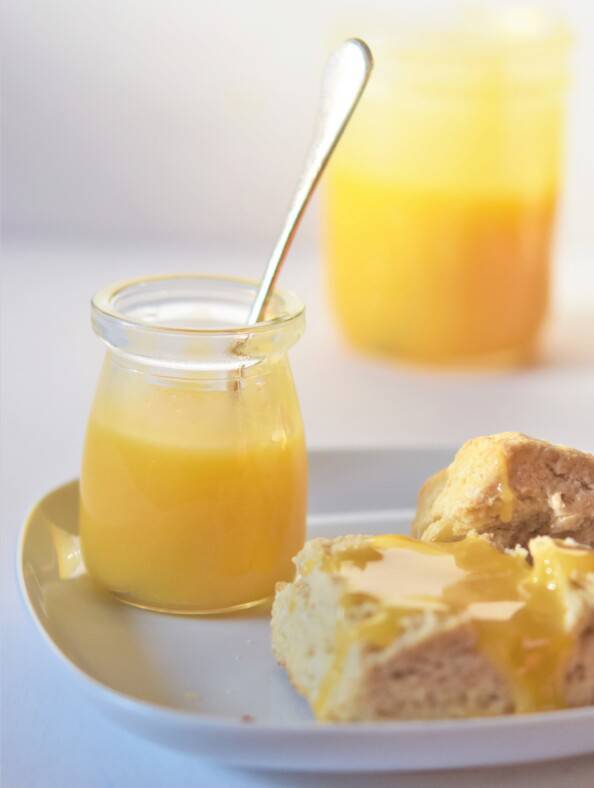 You May Also Like These Recipes: