Simple Delicious Quick Bean Salad
April 30, 2020
This simple delicious quick bean salad relies on only pantry staples but packs a huge flavour punch. It's gluten free, plant based, and makes a perfect lunch.
This quick-to-make and super flavourful bean salad has been a mainstay for me since the start of the stay home order. It it made with canned beans and pantry staples, but makes a supremely satisfying lunch.
This simple delicious quick bean salad relies on a new-to-me discovery: canned mixed beans, sometimes labeled 'mixed bean salad.' I'm sure I am the last to know about this pantry wunderkind, but I'm glad to have been finally introduced. Much like a new friend with whom you instantly "click," these beans have found a spot in my heart. A basic mix of at least 4 different types of bean, this style of canned bean is available in several different brands, each a slight variation on the last. They are all good. I like them because they offer a variety of tastes and textures in a single can, which is perfect for a bean salad.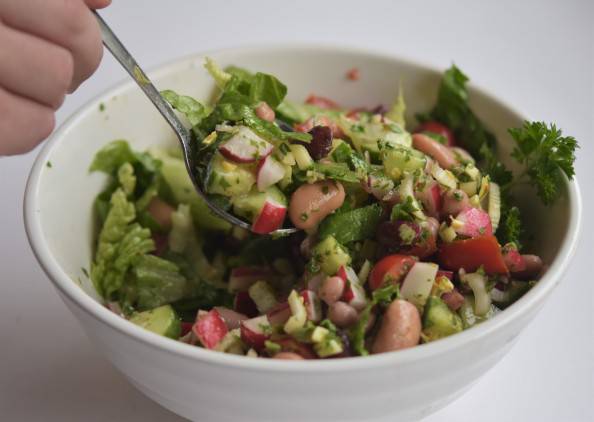 Unlike the slightly-too-sweet, one-note bean salad of our childhoods, my salad is garlicky, herbaceous, bracingly flavourful, and loaded with crunch. I marinate the drained and rinsed beans with a very flavourful vinaigrette, made more acidic than usual to combat the blandness of the beans. Just before eating, I toss in a mixture of chopped vegetables, whatever I happen to have (usually cucumber, tomato, red onion, & radish) and a big handful of chopped lettuce or salad greens. Top the salad with fresh herbs or some crumbled feta cheese, and your wonder lunch is ready.
If you happen to have some simple delicious quick bean salad leftover the next day, you can make a lazy panzanella – simply toss toasted bread cubes (made by toasting a slice of bread and cutting it into cubes) into the now wilted and juicy salad. The bread will absorb all the excess dressing and make the salad seem new again.
I may be sick of staying home, avoiding friends, missing yoga and any number of pre-pandemic activities, but, thanks to this salad, I am not yet sick of canned beans.
If you are looking for more stay-home friendly and pantry power recipes, check out last week's post on my go-to Stay at Home Recipes – it features a large collection of wonderful recipes, including this delicious quick bean salad :)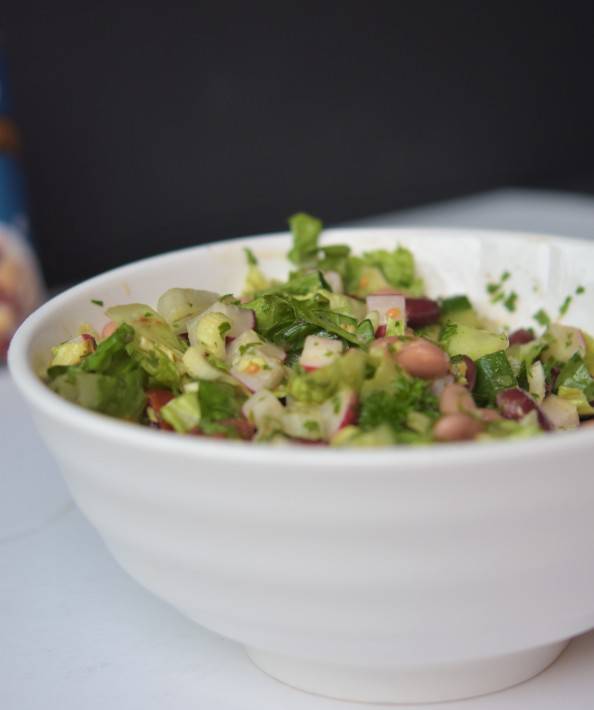 Simple Delicious Quick Bean Salad
Serves 2 to 4 as a main or side.
This gluten-free and vegan-optional salad is absolutely delicious, quick to make, and makes a perfect lunch.
1) This bean salad relies on the textural variety present in a can of mixed beans. Single variety canned beans will work, but won't be as pleasing.
2) The vinaigrette has equal parts vinegar and oil, which seems like a lot of vinegar! This is to provide the bracing acidity needed for the bland starchy beans to really shine.
3) Add whatever vegetables you prefer to the mix. I like to include at least one very crunchy vegetable (e.g. baby cucumbers, radishes)
ingredients
1 can bean medley (mixed beans), approx 400 ml to 500 ml
1 clove garlic, pressed through a garlic press, or minced very fine
1 tsp (5 ml) salt
2-1/2 Tb (37 ml) white wine vinegar or cider vinegar
2-1/2 Tb (37 ml) extra virgin olive oil
1/2 tsp (2.5 ml) freshly ground black pepper
1/2 tsp (2.5 ml) granulated sugar
1/4 tsp (1.5 ml) Dijon mustard (optional)
1/2 tsp (2.5 ml) dried marjoram or oregano leaves, crushed in your fingers to release the essential oils.
NOTE: I have been using an amazingly fragrant dried Syrian oregano given to me by a gardener friend. Only 1/4 tsp is needed! You may find that you need more than the 1/2 tsp called for. Syrian Oregano tastes more like marjoram, which is why I gave that as the first option.
~
2 to 3 Tb (30 to 45 ml) minced red onion – optional but delicious
2 to 3 Tb (30 to 45 ml) minced fresh parsley – optional but delicious
approx 2 cups (500 ml) chopped raw vegetables (cherry tomato, cucumber, radish, bell pepper, baby carrot, even steamed green beans!)
approx 2 cups (500 ml) chopped lettuce or salad greens
crumbled feta cheese (optional)
instructions
Open the can of beans and pour into a sieve over the sink. Rinse and drain very well and place into a mixing bowl. (I often make this right in a food storage container to save on dishes.)
In a perfect world, we would mix the dressing ingredients in a bowl first before pouring onto the beans, but I am not ashamed to admit that I always dump everything directly on to the beans and mix well. It works! You will need to stir them a few times over the next few minutes to make sure the flavours have really melded. If you taste the salad now, it might seem too salty or too acidic, but give it time. The beans will absorb quite a bit, and you still have a lot more veggies to add and they need flavour, too!
Ideally, you would let this marinate for several hours, but it can be eaten right away. If you are serving this right away, mix the onion, parsley and chopped vegetables into the beans and dressing. Let marinate for a few minutes. Transfer to two bowls, each with a generous handful of lettuce. Top with more chopped herbs and/or crumbled feta and serve.
If you are NOT serving this right away, but want to chop the veggies right now while you have the cutting board out, put the marinated beans and all their dressing in a container with about twice the volume you need. Fill the remaining space with all the chopped veggies (they will be sitting on top of the beans) and refrigerate until you are ready to serve. Pull the container out of the fridge, mix the veggies into the beans and dressing, and let sit for 5 minutes to marinate a bit before transferring to bowls with chopped lettuce.
If you happen to have some leftover the next day, and it's looking a bit more limp and runny than you would like, absorb the excess dressing with some toast that has been cut into cubes, pretend you have slaved all day over a panzanella and enjoy :) Delicious quick bean salad for the win!
This recipe has been included by Twinkl among their top picks for 10+ Healthy (and delicious) lunch ideas for the whole family.
You May Also Like These Recipes: