Spanish Meatballs | Albondigas
February 11, 2014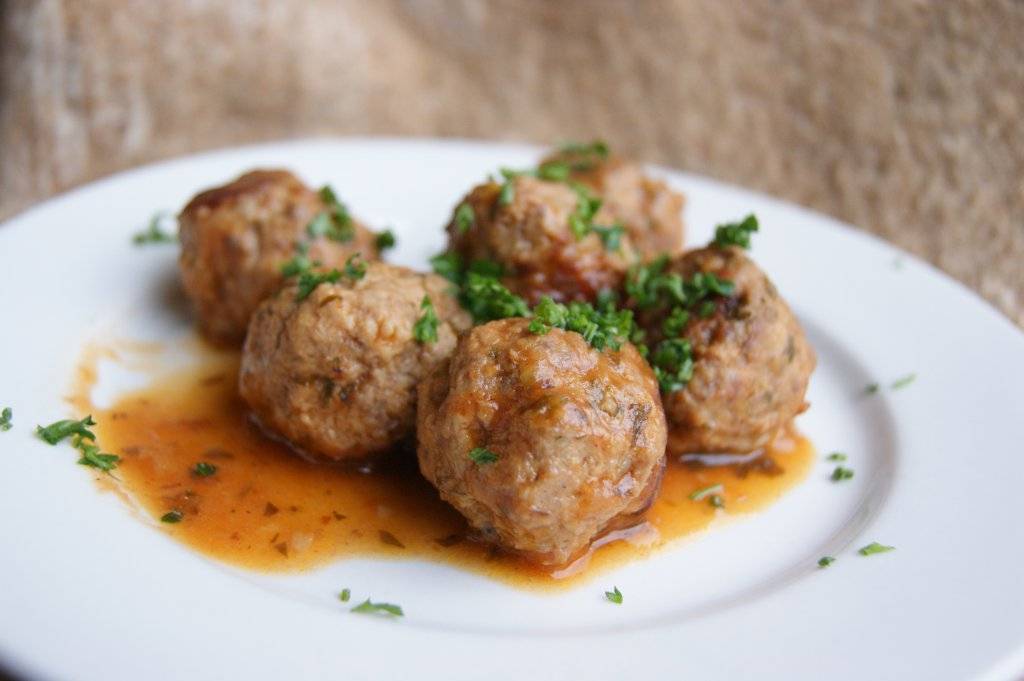 This recipe doesn't need a preamble. The first time I tried albondigas, in Madrid, I ate a whole plate, and I was already full. What else can I to say?
I do love a good meatball, and these had me at the first bite. This is one of the few recipes, along with seafood paella and cod-roe-stuffed roasted peppers, that I was determined to perfect once I got home from my trip. Albondigas are tender and flavourful, with a sauce that just begs to be sopped up with bread; really, meatballs just don't get any better. (Except, maybe, possibly, the divine lamb kefte we had a week later in Morocco, but that is another recipe for another time.)
Please, if you are so inclined, make these. If the recipe seems long, make it in stages. The meatballs can be mixed and refrigerated up to two days before cooking, or even frozen (either cooked or raw). The sauce can likewise be made in advance and/or frozen. Serve them as an appetizer (traditional) or as a main with pasta or bread and a salad.
But however you manage it, do make these.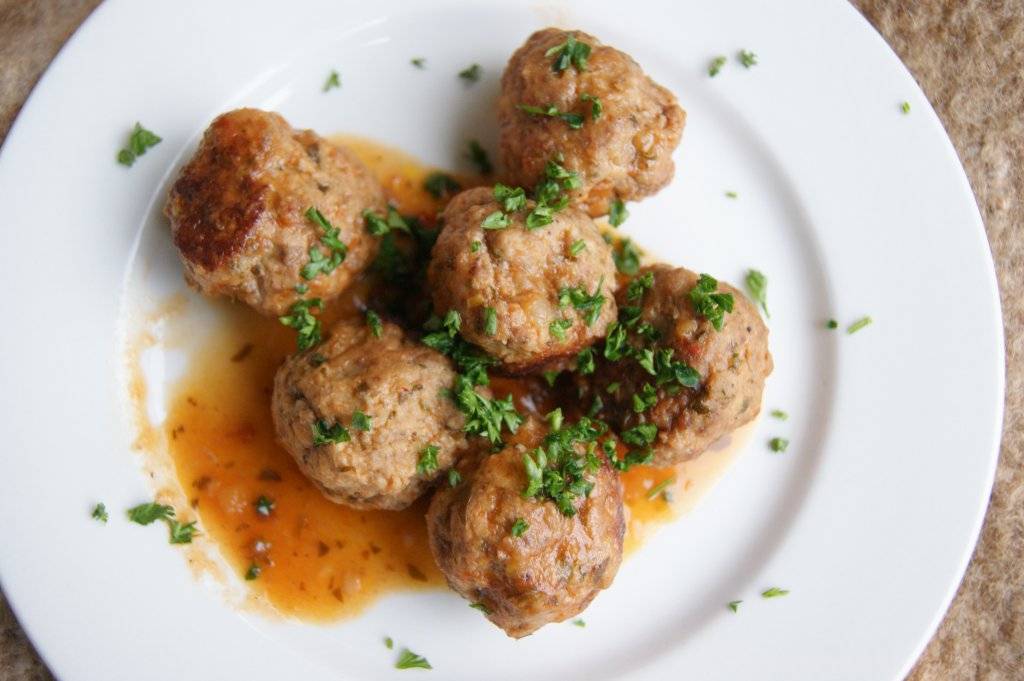 ALBONDIGAS (SPANISH MEATBALLS)
Serves 8 to 10 for tapas, 4 for a meal
These delicious meatballs are served with toothpicks for tapas, but can easily be turned into a meal by serving them with pasta or crusty bread and a salad. This recipe can be made in stages for ease of preparation. The meatballs can be mixed and rolled a day or two before, or even frozen. Likewise, the sauce.
Meatballs (Albondigas)
2 slices good quality white bread, crusts removed
1/3 cup whole milk or buttermilk
30 grams Manchego cheese, grated finely (about 1/3 to ½ cup), OR Romano, OR Parmesan
40 grams shaved and finely minced jamon de Serrano, OR prosciutto, OR pancetta
3 Tb minced onion (about ¼ onion)
3 Tb minced parsley
1 clove garlic, minced or crushed
¼ tsp salt, or more, to taste
½ tsp freshly ground black pepper
¼ tsp paprika (use Spanish paprika, if you have some)
225 gm (½ lb) ground beef (preferably from the chuck)
225 gm (½ lb) ground pork
Optional – flour for coating
Oil for frying
Sauce
4 Tb extra virgin olive oil, divided
1 cup finely diced onion (you can use the ¾ onion left over from making the meatballs)
30 g shaved and finely chopped jamon de Serrano, OR prosciutto, OR pancetta
4 cloves garlic, minced
1 tsp minced dried New Mexico chile (avail at Market on Yates), OR ¼ tsp red chile flakes
½ tsp sweet paprika (Spanish, if possible)
1/3 cup dry white wine
1-1/2 to 2 cups canned whole tomatoes, pureed with their juice (about ½ large can)
¼ tsp salt, or more, to taste
½ cup minced parsley
2 cups chicken broth or water, as needed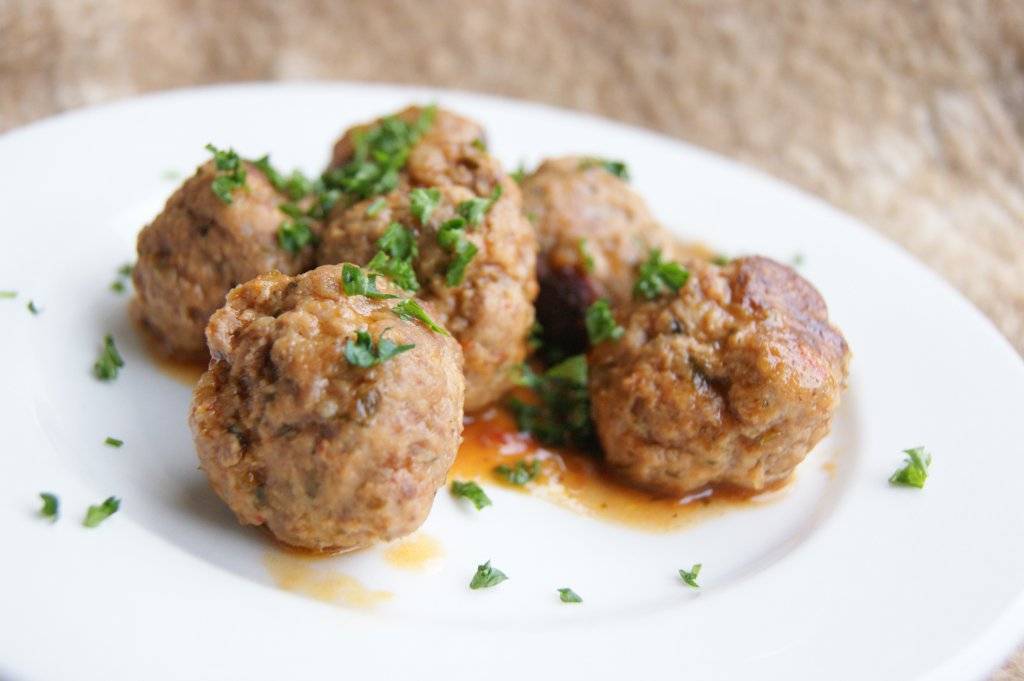 To make the meatballs:
Tear the bread up into little pieces and place in a large bowl. Add the milk or buttermilk and let soak for 5 minutes. Use a fork to mash this mixture into a paste. It must be in a paste – this is very important, otherwise you end up with chunks of bread in your meatballs. Another option is to grind in a food processor after soaking (see below)
All of the ingredients (other than the ground meat) should be very finely minced or even pureed. This helps enormously with the texture and flavour of the meatballs. if your knife skills aren't what they could be, or you are just plain tired, fell free to place the jamon (or prosciutto), the onions, the parsley, and crushed garlic in the food processor, like so:
(Even add the soaked bread to the food processor, if it is not mashing easily to a paste.)
Once everything is very finely minced, add it all to the meat in the bowl. Add all the remaining ingredients (except the flour and oil) and mix well by hand, working the mixture until it is as smooth and evenly-blended as possible. Take a teaspoon of the mixture and fry it for a minute on each side to cook through, and then taste this little fried piece to see if you have enough salt. Add more salt to the mixture, if necessary, and remix. (I've tested this recipe enough to know that 1/4 tsp of salt should be adequate, so if you want to skip this tasting step and proceed straight to the rolling of the meatballs, go ahead)
Once seasoning is corrected, form the mixture into 1-inch round balls, placing them on a parchment-lined tray as you go. You will have approximately 2 dozen meatballs. Place the tray of meatballs in the fridge for at least 30 minutes, and up to eight hours, to firm them up.
Meanwhile, make the sauce:
Heat 2 Tb of the olive oil in a large saucepan over medium heat. Add onion and saute for several minutes, until onion is translucent. Add minced jamon or prosciutto, and saute two minutes more. Add garlic, chile, and paprika, sautéing about 30 seconds, until fragrant. Add the wine, stir well, and bring to a boil. Add the tomatoes and salt and simmer the sauce for 5 to 10 minutes, until the flavours are blended. Set aside until ready to use.
To cook the meatballs:
Albondigas can either be deep fried or pan fried. Deep frying is more traditional, but pan-frying is almost as good. For deep-frying, heat a cast iron pan with 2 cups of oil in it until the oil is at 350 F. Lightly coat the meatballs in a thin dusting of flour. Fry them, 12 at time, for a minute on each side, until lightly crispy and golden. Remove to a paper-towel-lined tray and repeat with the rest of the meatballs. (They won't be cooked all the way through, but they will finish in the sauce).
OR you can pan fry them a minute on each side in a couple of tablespoons of olive oil, until light brown.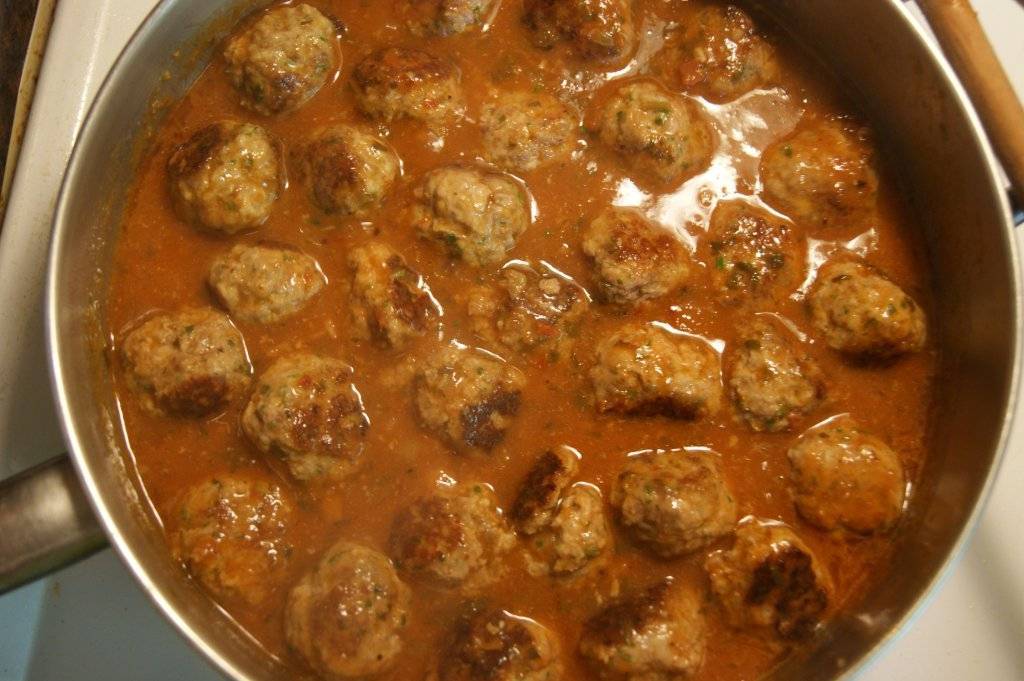 Either way, place the meatballs in the tomato sauce. Return the tomato sauce to the heat. Add enough chicken broth or water to the sauce to loosen the consistency enough to help the meatballs cook (one cup of broth should be enough to start with). Simmer the meatballs in the tomato sauce for at least 15 minutes, stirring occasionally, so they cook through and the sauce and the meatballs share some flavours back and forth. Add a bit of chicken broth or water to the pan, as needed, if the sauce looks too dry.
Just before you are ready to serve the meatballs, stir in the ½ cup minced parsley and the remaining 2 tablespoons of extra virgin olive oil into the sauce. Serve immediately, either on a platter with toothpicks in each albondigas for tapas, or in a big serving dish with warm crusty bread to mop up the sauce if this is for a meal.
(Another option is to add an extra 2 to 4 cups of chicken broth to the sauce and serve the Albondigas as a delicious meatball soup. Really satisfying!)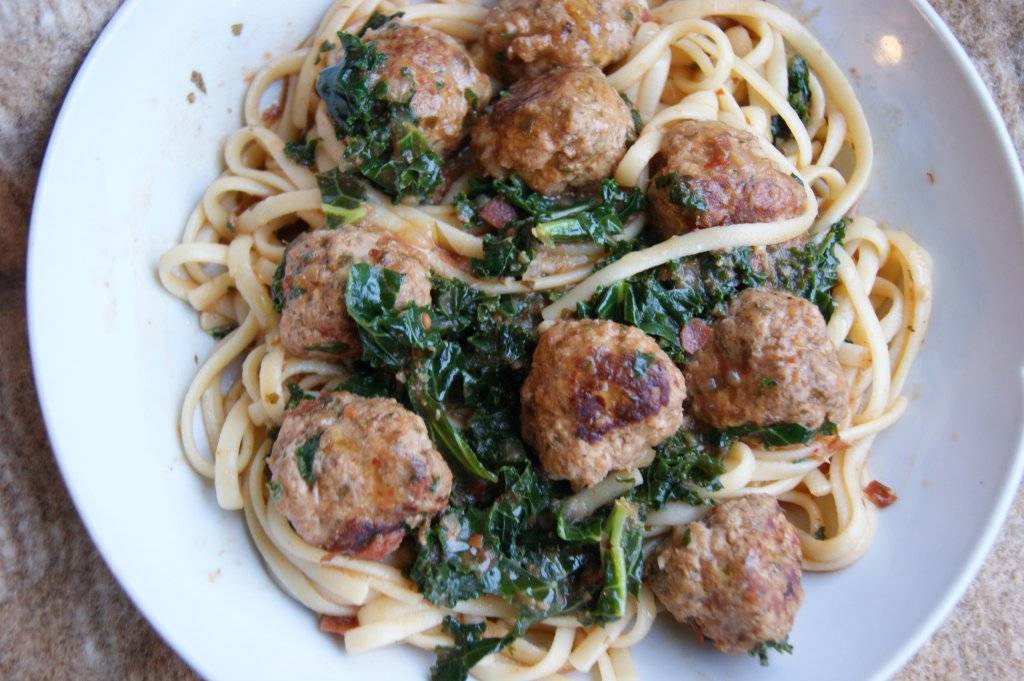 For a pasta variation: I added chopped kale to the pasta in the last two minutes of cooking, then drained and added it all the to the meatballs and sauce.