Dinner with a Farmer
August 16, 2011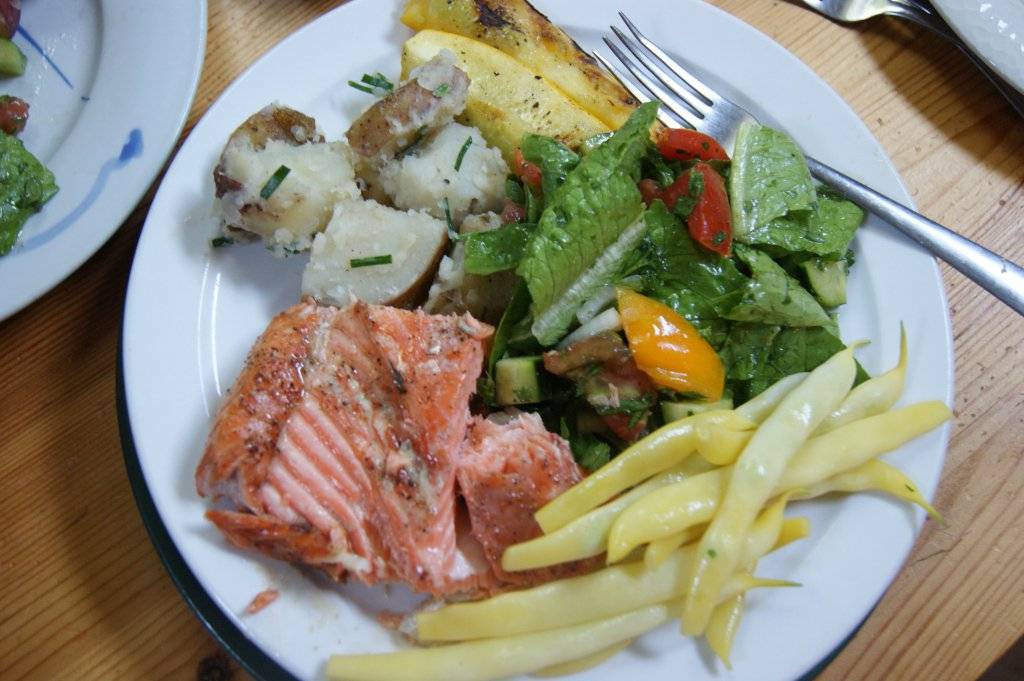 I have a backlog of recipe ideas and photos to share with you, but I have been guilty of taking some vacation time, and leaving important things like recipe notes and photo sticks behind. What can I say?
I happen to be visiting my brother-in-law and his family on Gabriola Island right now (also home to the famous Grandma M), and guess what? My B-I-L is an organic  farmer. He also just got back from a fishing trip with a load of spring salmon. It's perfect, really. My vacation time is spent wallowing in a bounty of amazing food.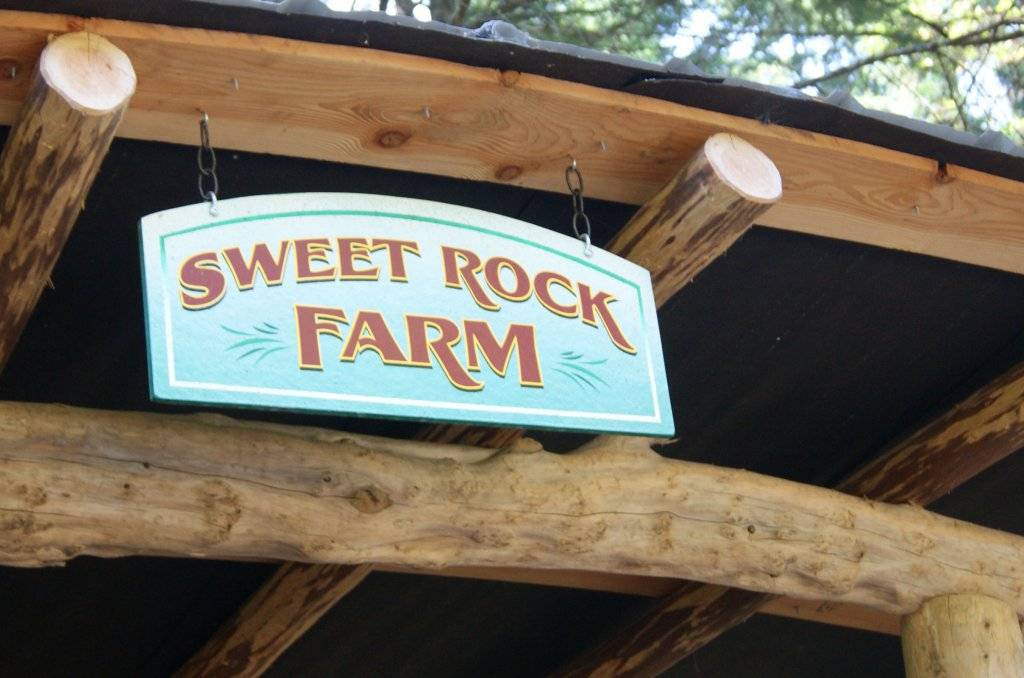 I thought it would be fun to share a day in the life of Heidi right now. Or a meal in the life, along with a couple of simple recipes for the fantastic farm fresh food I am enjoying. I'm not gloating – this is all the blog I have in me right now. I feel both too relaxed to work, and devoutly thankful for farmers and gardeners and August bounty.
So, this was dinner last night: a beautiful fillet of Chinook salmon; new potatoes, yellow beans, and golden zucchini straight from the garden; a huge salad; and a blackberry-apple crisp made by my neice and I. Everything in the meal, except the ingredients for the dressing and the crisp topping, came from the farm or the fishing line. Everthing was so fresh and so good that we needed no fancy sauces nor convoluted recipes.
Farmer Sal's comment: "This is the kind of meal that is so good, you want to eat it with your fingers!"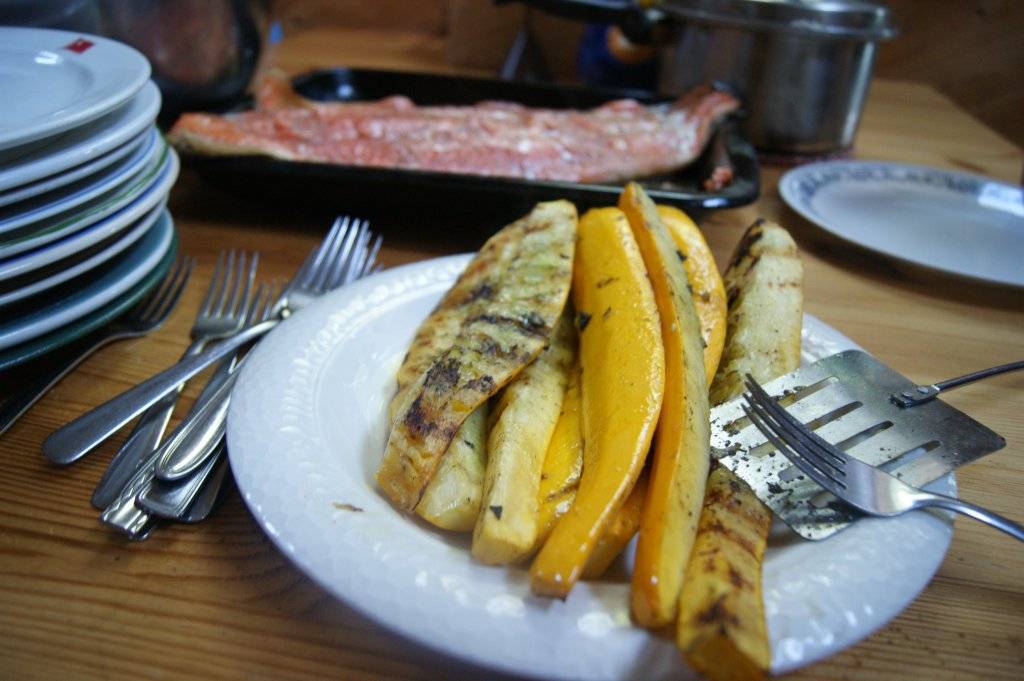 GRILLED ZUCCHINI
Serves 4 to 6.
This is one of the BEST ways of preparing zucchini. Make sure to use small zucchini for this recipe.
ingredients
2 lbs small or medium-sized zucchini
2 Tb olive oil
1/2 tsp salt, or more to taste
1/4 tsp pepper
instructions
1. Start your barbecue or gas grill and heat to 450 degrees or so. (That's hot, for those of you without a thermometer).
2. Cut the stem off the zucchini. Cut each one lengthwise in half or in quarters (depending on the size of the zucchini). Toss the cut zucchini with olive oil, salt, and pepper to coat evenly.
3. Scrape grill clean. Place prepared zucchini, cut side down, directly on the hot grill. Cook, uncovered for 5 to 10 minutes (depending on the size of the zucchini and the heat of the grill). Flip the zucchini, if necessary. The zucchini is done when it is just tender and spotty dark brown. Serve immediately, or cut into pieces to toss in a salad or with pasta.
BLACKBERRY-APPLE CRISP
Serves 10
My niece and I threw this together without a recipe, so this is a best-guess at how we made it. It was crunchy, not too sweet, and bursting with blackberry goodness. I know that we did use a full cup of butter, though.
filling
4 cups fresh-picked ripe blackberries
4 to 5 cups sliced summer apples (we used Transparents)
1/2 cup sugar
topping
1/3 cup whole wheat flour
3/4 cup white flour
2 cups large-flake rolled oats
1/2 tsp salt
1 to 1 -1/4 cups demerara sugar (any brown sugar will do)
1 cup unsalted butter, at room temperature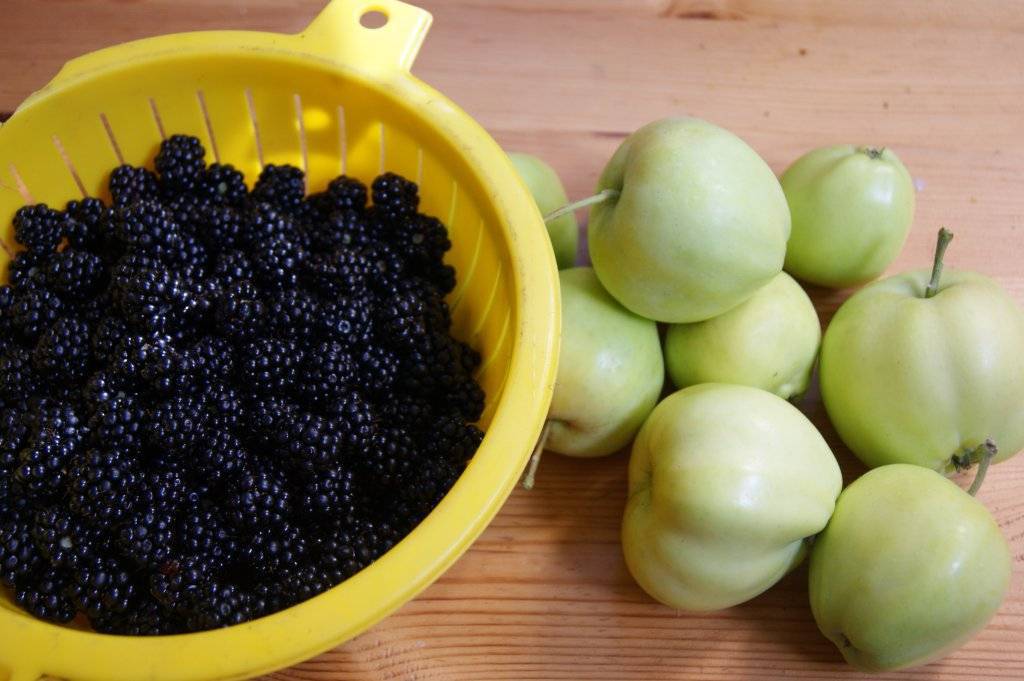 instructions
1. Preheat oven to 400 F. Get out a 9×13-inch pan.
2. Make the filling: place the prepared apples, the blackberries, and the sugar in the pan. Stir to mix evenly.
3. Make the topping: in a large bowl, combine the whole wheat flour, the white flour, the rolled oats, the salt and the brown sugar. Mix well. Add the butter and use your hands to mix everything until evenly blended. It should have the texture of crumbly cookie dough.
4. Sprinkle the topping evenly over the filling and press gently. Place crisp in the oven and bake about 30 minutes. Rotate pan, recude heat to 350, and bake another 15 to 30 minutes, until topping is golden brown and crisp and the filling is bubbling and juicy.
5. Let crisp sit at lest 10 minutes before serving. Serve with whipped cream or vanilla ice cream, if desired.
Categories:
Baking and Treats
,
Cooking in Season
,
Cooking with Kids
,
Dinner Solution
,
Food Philosophy
,
Late Spring / Early Summer
,
Late Summer / Early Fall
,
Local Harvest
,
Locavore Gone Loca
,
My Life in Food
,
Quick and Dirty
,
Recipes
,
Sides
,
Vegetarian