Soba Noodle Salad
May 10, 2016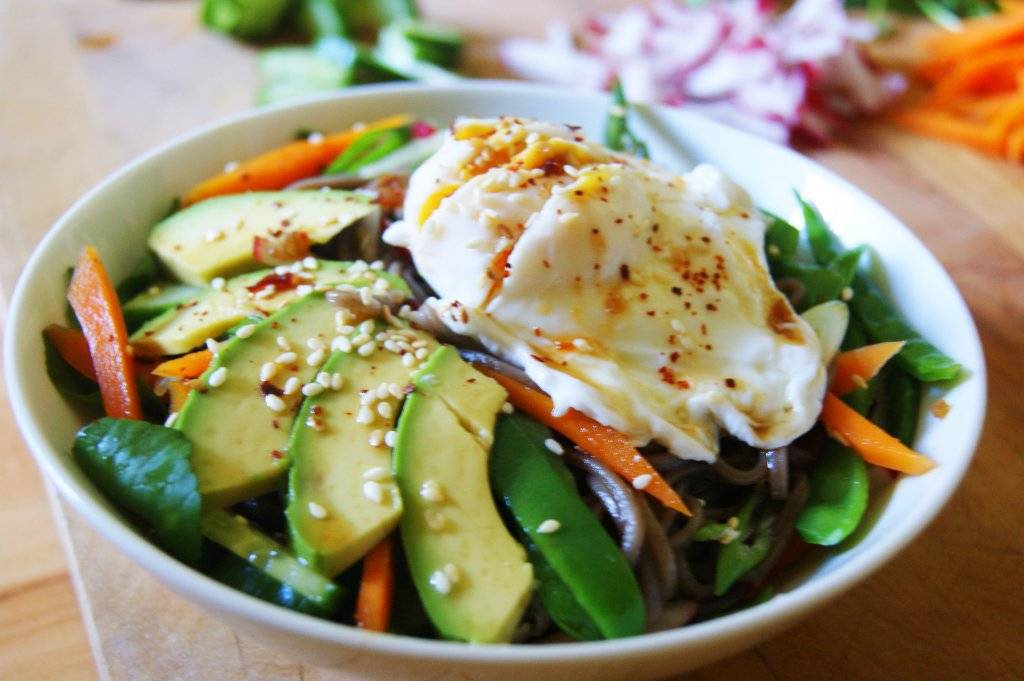 I have had this blog for six years without ever once mentioning my love for soba noodles. This travesty of silence stops today.
Soba noodles are otherwise known as those yummy Japanese/Korean noodles that taste of earthy buckwheat goodness and everything that matches perfectly with salty fermented soy, ginger, and bright spicy chili paste. Clearly worthy of chef love.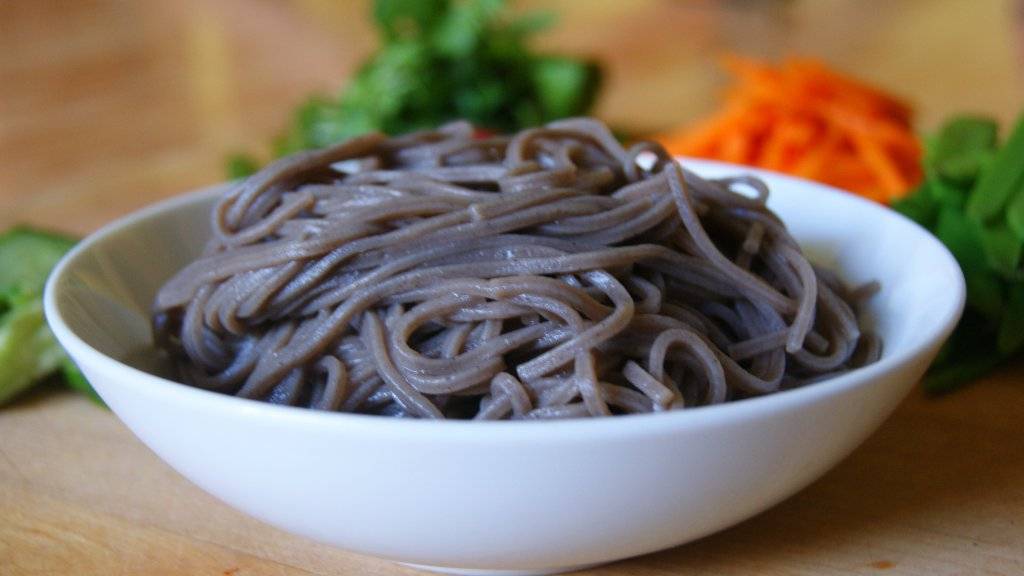 The magic of soba noodles is that they are equally good served hot swimming in a rich broth, as they are cold dipped in a full-flavoured soy based sauce. Soba's robust flavour stands up well to everything from sesame and arugula, to chili and beef, making them a flexible accompaniment to many Asian-inspired meals.
Today being a warm day following a warm week, I am introducing soba to the blog via my favourite cold noodle salad. Crisp spring vegetables, buttery avocado, peppery watercress, the bite of fresh ginger, the richness of roasted sesame : these meld with mouthfuls of springy, slippery, full-flavoured buckwheat noodles. This is a favourite meal of mine on a warm spring day.
Very important: Soba noodles are usually made with a mixture of buckwheat flour and wheat flour, and frequently have yam starch flour thrown in to the mix. You definitely, definitely, want to buy soba noodles with the yam flour. The springy soft texture of these yam-enhanced noodles far surpasses soba made without. My preferred brand is Hana, available in Chinatown or at Fairway markets. For my gluten-free readers, there are some good gluten-free brands out there. One of my favourite brands of soba noodles is made only with buckwheat and yam. Although a little tricky to use, they have a wonderful taste and texture. King Soba Sweet Potato & Buckwheat Noodles: look for it at health food stores and The Market Stores.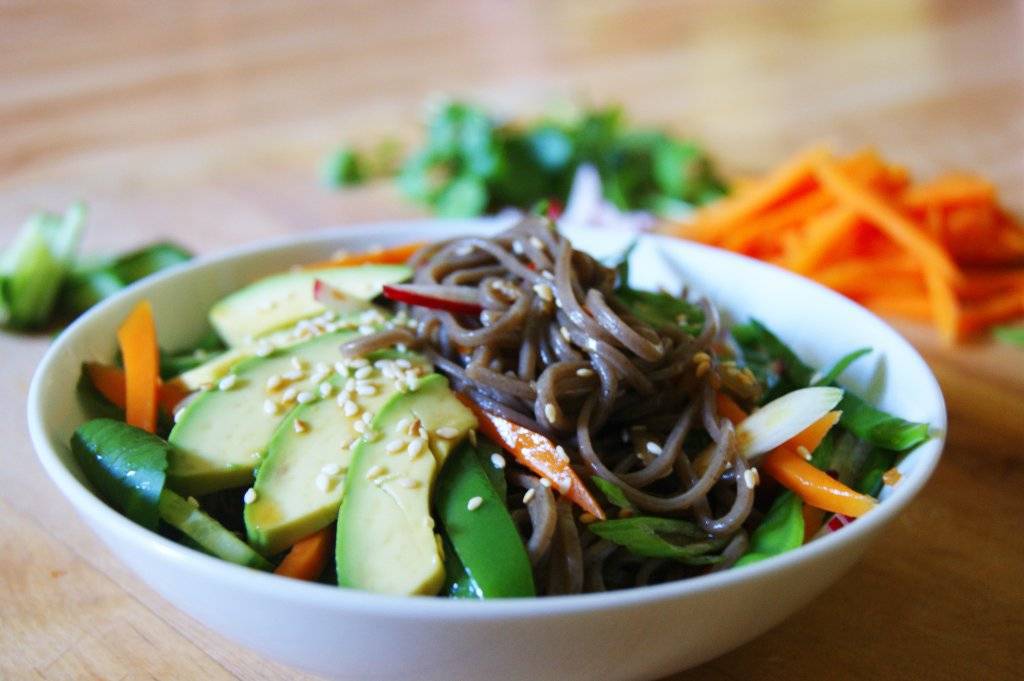 SOBA NOODLE SALAD
Serves 4 as a meal, 8 as a salad appetizer
Earthy robust soba noodles stand up well to the full flavours of this soy-based dressing. While I usually eat this as a satisfying vegetarian or vegan lunch, try adding an egg or some poached salmon or chicken to the top of this salad to make a more hearty meal.
Dressing
½ cup sugar
6 Tb soy sauce (for GF, use GF soy sauce)
¼ cup water or dashi
4 cloves garlic, minced or pressed
3 Tb rice vinegar
1 tsp sambal oelek (or more, to taste)
1 to 3 tsp toasted sesame oil (to taste)
1 Tb packed grated fresh ginger
Noodles
200 gm Japanese or Korean soba noodles*
1 tsp salt
2 tsp vegetable oil
1 tsp sesame oil
Vegetables
2 small carrots, peeled and cut into matchsticks
1 cup snowpeas, cut in half lengthwise
4 red radishes, cut into matchsticks or thin slices
½ long English cucumber, seeded and sliced into half-rings
2 scallions, thinly sliced on the diagonal
1 bunch watercress, stemmed, or 3 cups arugula or mizuna
Optional – 2 Tb pickled ginger (sushi ginger) sliced into shreds
Optional – 1 avocado (optional), quartered and sliced
Optional – 4 eggs, poached
4 tsp toasted sesame seeds
*Buy soba noodles that have yam or yam starch as one of the listed ingredients. These have a much better texture and flavour. A great brand is Hana. For gluten-free, look for King Soba.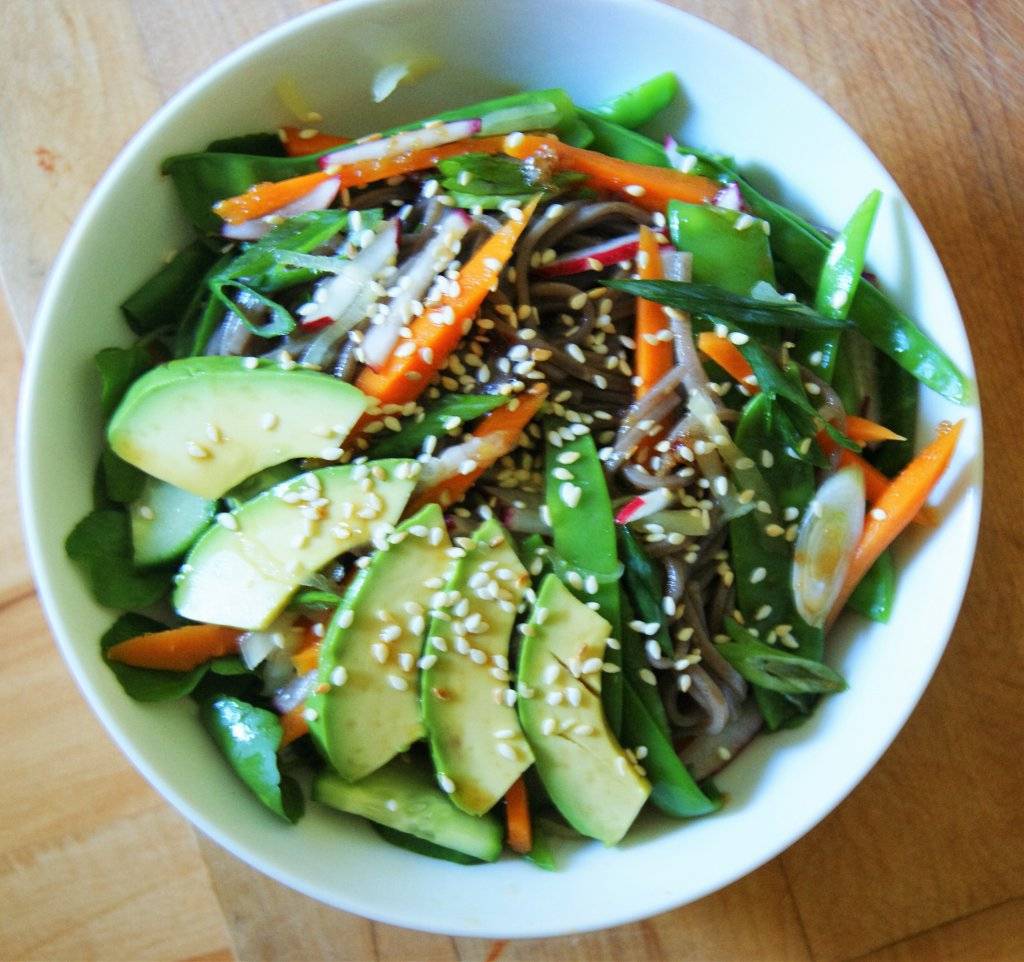 Dressing: Combine all the ingredients except the sesame oil and ginger in a small pot and bring to a boil. Reduce heat and let simmer for 2 minutes, until slightly thickened. Remove from heat and pour into a bowl. Let cool until no longer hot. Stir in sesame oil and grated ginger. Taste the dressing and see if needs more vinegar, soy, or spice for your liking.
Noodles:
Bring 8 cups of water to a boil. Add the 1 tsp salt and the soba noodles. Return to a boil, stirring the noodles to separate them. Boil for 5 to 7 minutes, until just cooked. Drain and run under cold water until noodles are cool. Drain well. Place in a bowl or container and toss with the oils. (Noodles can be made two days in advance).
Vegetables:
Bring a small pot of water to a boil. Add carrots and snowpeas and cook for 30 seconds. Drain and spread veggies out on a plate or tray to cool and dry off. The remaining vegetables just need to be cut as specified.
Salad assembly:
You can assemble this salad in a big bowl, but I prefer to portion it into individual bowls, one for each person. It looks nicer that way.
For a big bowl, toss the noodles, ¾ of the dressing, and the vegetables (except avocado) until well mixed. Top with sliced avocado, drizzling with more dressing and sprinkle with sesame seeds.
For individual portions, toss the noodles with ½ the dressing, and divide them evenly between 4 or 8 bowls. Divide the vegetables evenly between all the bowls, arranging them nicely on top of the noodles. Drizzle with some more dressing. Top each bowl with sliced pickled ginger, sliced avocado and toasted sesame seeds. top each with a warm poached egg, if using.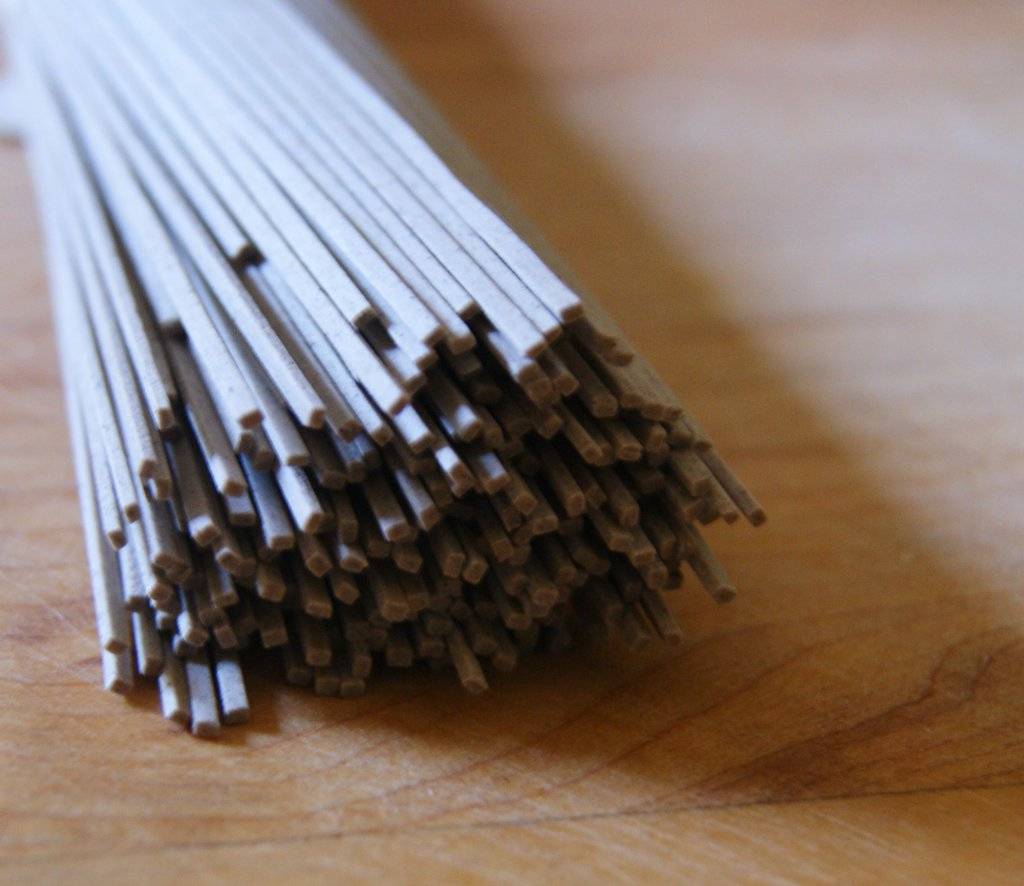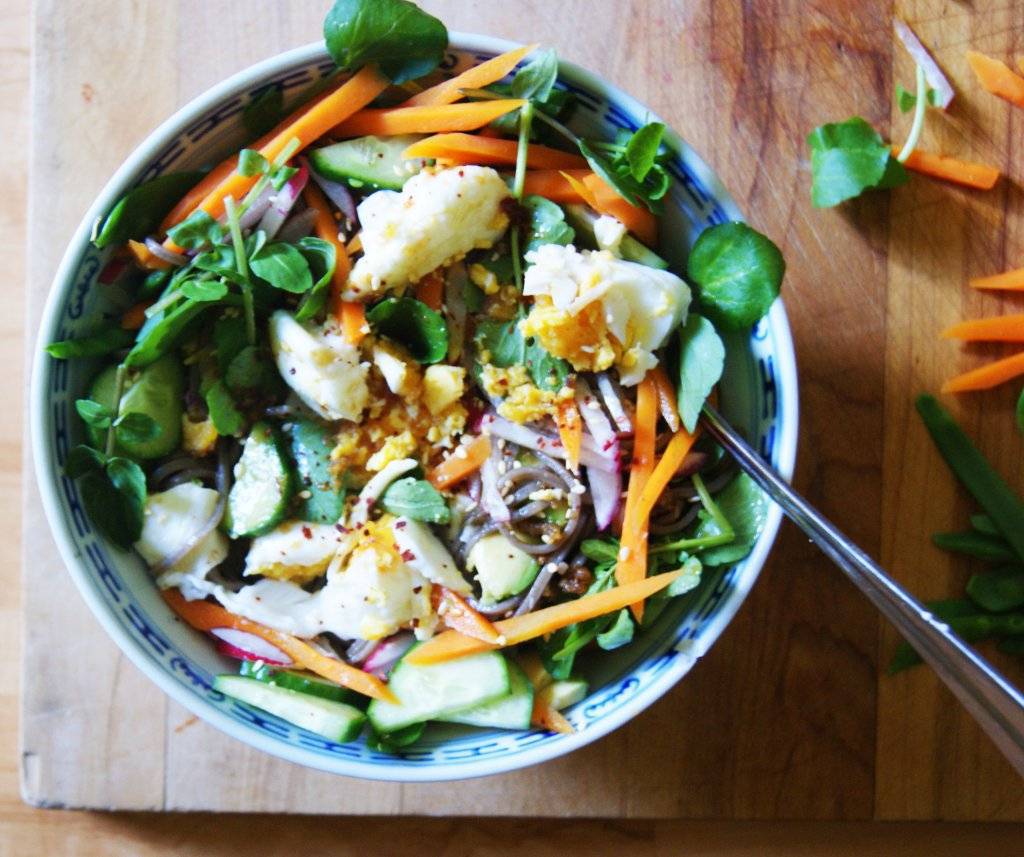 You May Also Like These Recipes:
Categories:
Appetizers
,
Asian
,
Asian Foods
,
Asian Vegetables
,
Cooking in Season
,
Early Spring
,
Feature Ingredients
,
Foodgasm!
,
Gluten Free
,
Heidi's How-To
,
Kid Friendly
,
Late Spring / Early Summer
,
Lunch ideas
,
Recipe Rehab
,
Recipes
,
Salads
,
Vegetarian