Strawberry Cheesecake Ice Cream
June 7, 2020
Strawberry Cheesecake Ice Cream, with its creamy tangy cheesecake base and fruity strawberry swirl, has become my new favourite spring dessert.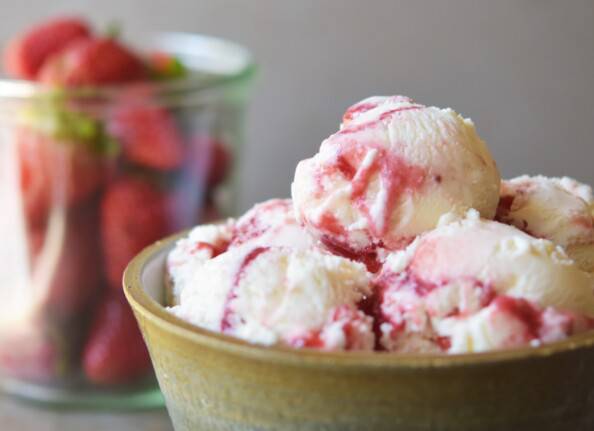 The idea for this delicious strawberry cheesecake icecream recipe came to me because of my granny's lemon curd. During the stay home order, I made my grandmother's recipe several times, until we actually couldn't eat it any more, and my son suggested we turn the excess lemon curd into ice cream. (!) I know, he's a genius.
I had a lot of cream cheese on hand, but no whipping cream, and since we were prohibited from grocery shopping more than once per week, I set out to make some kind of frozen dessert with lemon curd and cream cheese as the main players.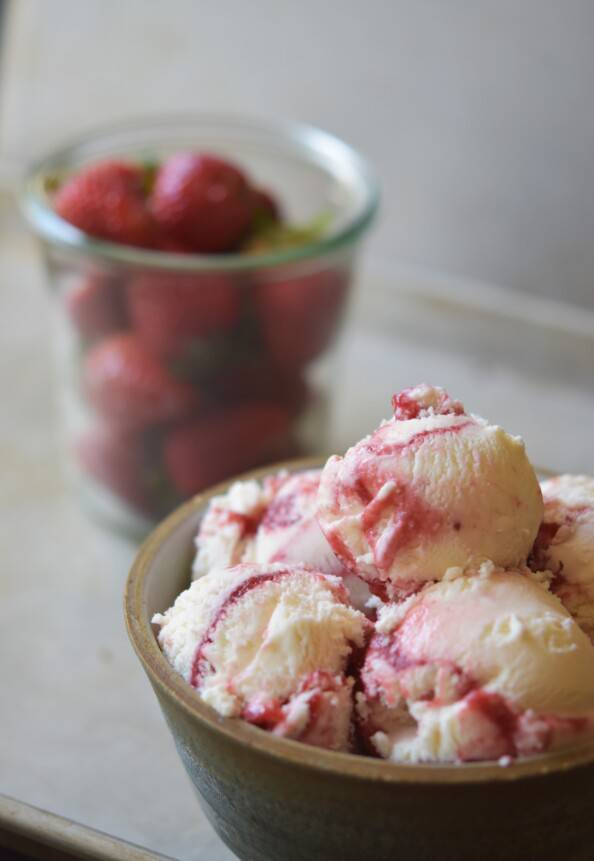 The results were phenomenal. One day, I will post the final Lemon Cheesecake Ice Cream recipe that resulted from those experiments (because there were several, and they were all delicious). But citrus season was waning and strawberry season was picking up and I started dreaming about how DIVINE the cheesecake ice cream would be with fresh local strawberries!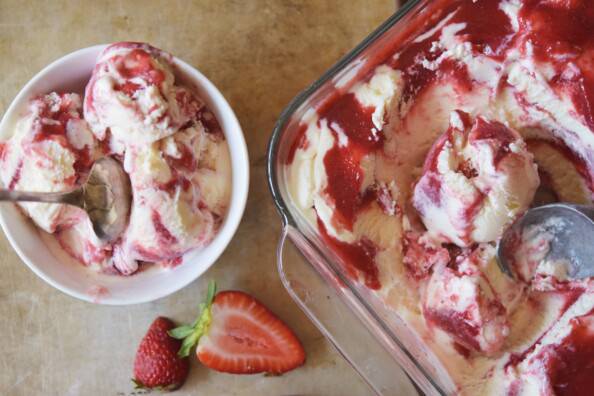 About this Strawberry Cheesecake Ice Cream
We've all had a classic New York Cheesecake, haven't we? The slightly tangy, plain-Jane cheesecake base (whose very plainness allows the cream cheese flavour to shine), topped with a bright, fresh and sweet strawberry topping. It is SO good. The thought of having those flavours in ice cream form, throwing me back to the Sara Lee cheesecake we occasionally had straight from the freezer as children. . . well, to say I was excited to start recipe testing is an understatement.
After the first testing round, I realized a couple of things:
1) I could dispense with the classic cooked custard base, since the cream cheese has so much body and so many stabilizers that the ice cream would have the right texture even without custard, and
2) this was definitely going to need a distinct strawberry swirl, rather than a fully mixed ice cream situation. (The first batch, in which I completely mixed the strawberries with the cheesecake base, just tasted like a so-so strawberry ice cream.)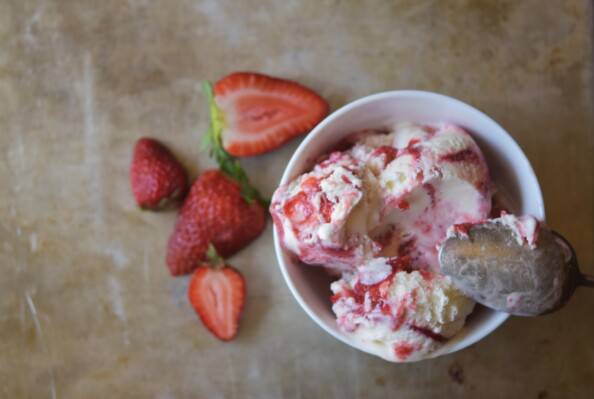 The next two batches of strawberry cheesecake ice cream were perfection. The ice cream base tasted exactly like a delicious baked cheesecake, but in ice cream form, with lovely flavour and mouthfeel. The strawberry swirl set it off, tasting like the topping of my New York cheesecake just got mixed into every bite. It is super strawberry-y and very cheesecake-y, and tastes like a perfect way to showcase some beautiful local strawberries.
STRAWBERRY CHEESECAKE ICE CREAM
Makes approx 1-1/2 litres of ice cream
This delicious homemade ice cream tastes like a creamy tangy baked cheesecake, swirled with a delicious fruity strawberry swirl. It is super strawberry-y and very cheesecake-y, and tastes like a perfect way to showcase some beautiful local strawberries.
Cheesecake ice cream base
250 ml (1 cup) whole milk
200 g (1 cup) granulated sugar
375 ml (1 ½ cups) whipping cream
250 g (8 oz) block style cream cheese, cut into cubes
5 ml (1 tsp) vanilla extract
30 to 45 ml (2 – 3 Tb) freshly squeezed lemon juice
Strawberry swirl
750 to 875 ml (3 to 3-1/2 cups) diced fresh strawberries
150 to 200 g (3/4 – 1 cup) granulated sugar
60 ml (¼ cup) water
15 to 30 ml (1 – 2 Tb) fresh lemon juice
Make ice cream base:
Combine milk and sugar in a pot, place on medium low heat and heat, stirring occasionally, until sugar dissolves. Remove from heat and pour into a bowl. Add the whipping cream, the cubed cream cheese, the vanilla and lemon juice. Use a stick blender to puree until smooth. Alternatively, transfer everything to a blender and blend until smooth. Careful not to over-blend or the cream will start to whip. Transfer mixture to a large mason jar or plastic container, close with a lid, and refrigerate several hours or overnight.
Make strawberry swirl:
The amount of sugar and water is variable – it depends on the sweetness and juiciness of your berries, and how sweet you like the swirl. Combine the diced strawberries with the water and sugar in a wide skillet. Bring to a boil, stirring. Reduce heat to medium, and cook, stirring, until strawberries have broken down, and the juices are thickened and clear, about 5 to 8 minutes. It should look like runny strawberry jam. Remove from heat, stir in lemon juice, and then transfer mixture to a bowl to cool.
Once strawberry mixture has cooled to room temp, you can choose to puree the mixture for smoothness. A pureed swirl will be less icy after it is frozen, but the slightly chunky one will have more textural interest and tangier flavour. I've done it both ways and can't honestly say which I prefer! Transfer strawberry mixture to a jar or food-safe container and refrigerate several hours or overnight.
Finish ice cream:
When you are ready to freeze the ice cream, pour ice cream base into ice cream maker and freeze according to manufacturer's instructions. Meanwhile, scrape strawberry mixture onto a metal pie plate and put in the freezer. This helps it get extra thick and cold for when it is swirled in. Also, put an 20 cm x 20 cm (8 in x 8 in) square glass baking dish in the freezer. This is for the swirling part.
After the ice cream is completely frozen (usually about 20 to 25 minutes), remove the glass baking dish from the freezer. Pour some of the strawberry mixture into the bottom – just enough to make a thing layer. Then scoop a thin layer of the ice cream over it. Then pour on another layer of strawberry sauce, then more ice cream. Keep repeating layers until everything is used up. Work as quickly as you can! Immediately wrap the dish of ice cream and store in the freezer. Store in there for at least 4 hours, until ice cream is hard, before trying to serve. If the ice cream is too soft, the layers will run together instead of staying in a distinct swril pattern.
Another way to do this, albeit trickier, is to swirl the strawberry mixture into the ice cream while it is churning. Starting at the 20 minute mark (during churning), remove strawberry mixture from the freezer. While the machine is running, pour strawberry mixture into frozen cheesecake ice cream base to swirl it through. Do not over mix!. As soon as you have a nice swirl, turn the machine off. For this particular ice cream, I leave in in the canister; I remove the canister from the machine, wrap the top with plastic wrap, and place the canister, ice cream and all, in the freezer, until the ice cream has hardened. Once it has hardened nicely, the strawberry swirl won't run and mix as you are transferring the ice cream to a storage container.
You May Also Like These Recipes:
Categories:
Baking and Treats
,
Cooking in Season
,
Frozen Desserts
,
Fruit
,
Fruit
,
Gluten Free
,
Heidi's How-To
,
Kid Friendly
,
Late Spring / Early Summer
,
Locavore Gone Loca
,
Recipes