Cilantro Root Season
July 12, 2011
Of all the wonderful fruits and vegetables that are coming into season, cilantro root is the one that I am most excited about right now (sorry, dear cherries). Cilantro Root has a delicious herbal flavour, packs a powerful cilantro punch without being too cilantro-y, and is an essential ingredient in all kinds of Thai recipes. And it's in season RIGHT NOW!
The thing is, nobody sells it.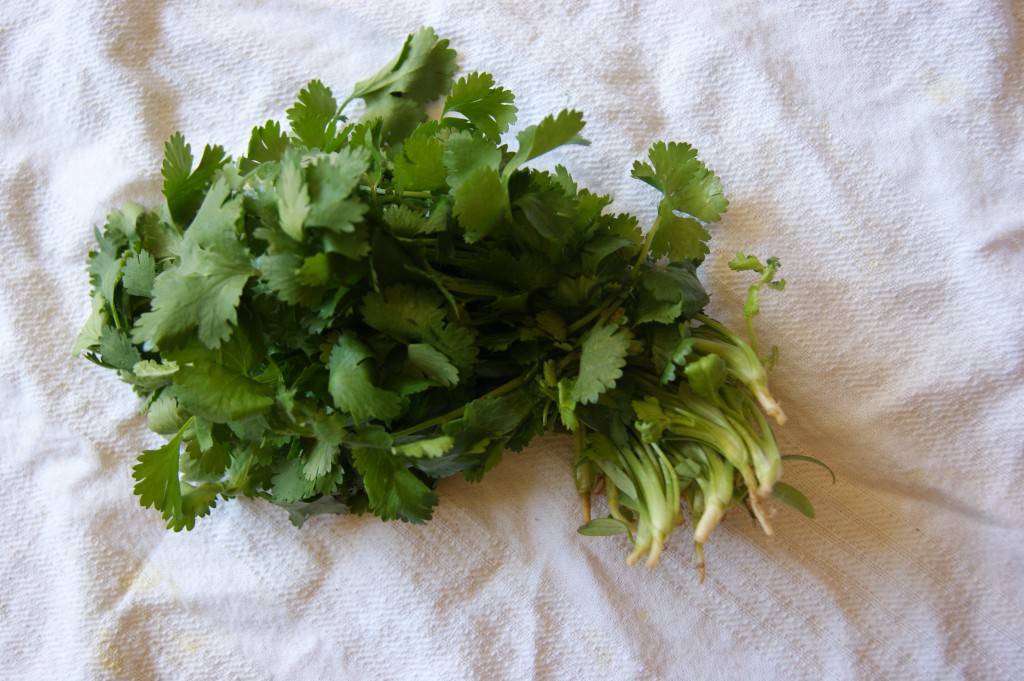 But… grocery stores and produce markets everywhere are selling B.C.-grown cilantro right now and it comes with the roots attached! They just don't realize the gold mine they are sitting on! Foodies everywhere will pay through the nose for fresh cilantro root, so don't give my secret away. I have been known to buy out a store's entire supply of summer cilantro only for its roots (shhhh…. I didn't really say that). I mean, I will give the leafy parts away to good homes, but I buy twelve bunches of cilantro at a time just get my greedy hands on the parts that most people throw away. My neighbours have learned to be prepared for my summer cilantro giveaways. They think I am being generous when I'm really being food-crazy.
Cilantro root freezes very well and keep its flavour for at least 6 months in the freezer. Cilantro root is always used in South-East Asian pastes, marinades and dipping sauces, so it doesn't need to look pretty. Here's how I go about freezing my local cilantro root. You can do this with as many bunches at a time as you have.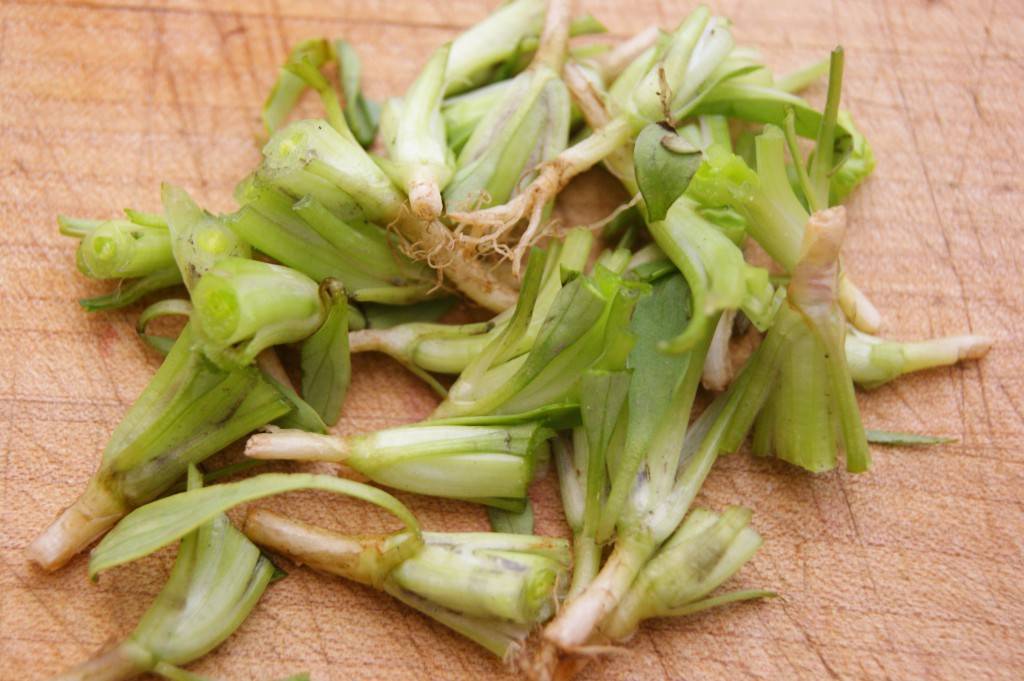 Cut off the roots and a bit of the thickest stems from your bunch of fresh locally-grown cilantro.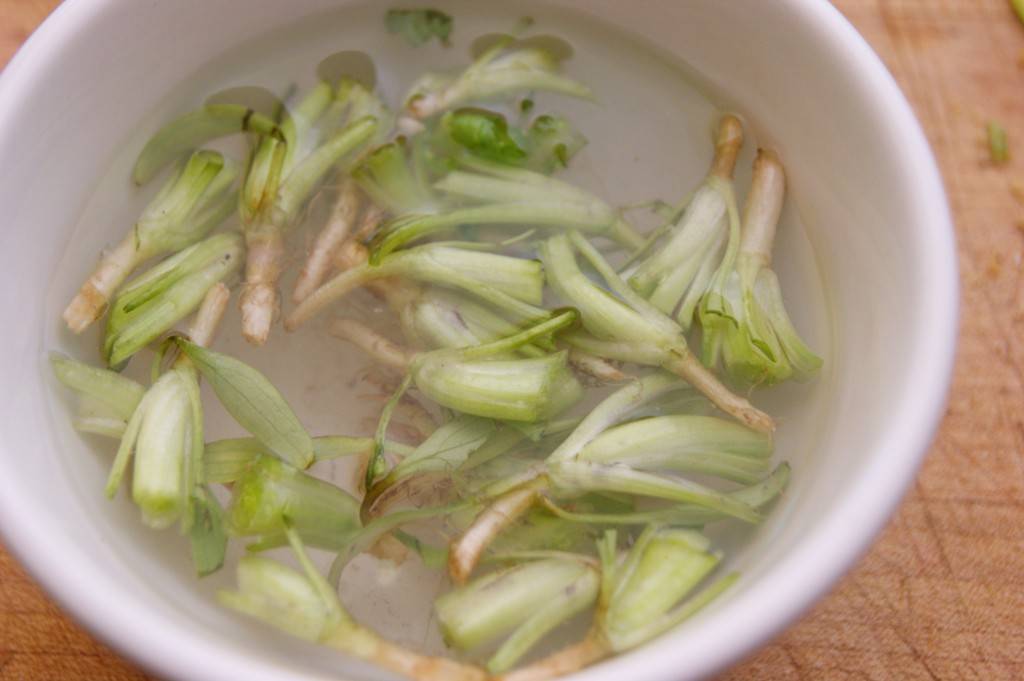 Place in a bowl and cover with cold water. Swish with your hands to remove dirt. Pull off any wilted or yellow leaves or stems. Scoop off the cilantro onto a plate, drain out the water and dirt, rinse the bowl, put the cilantro back in, cover with more water and repeat the process, until the cilantro is clean.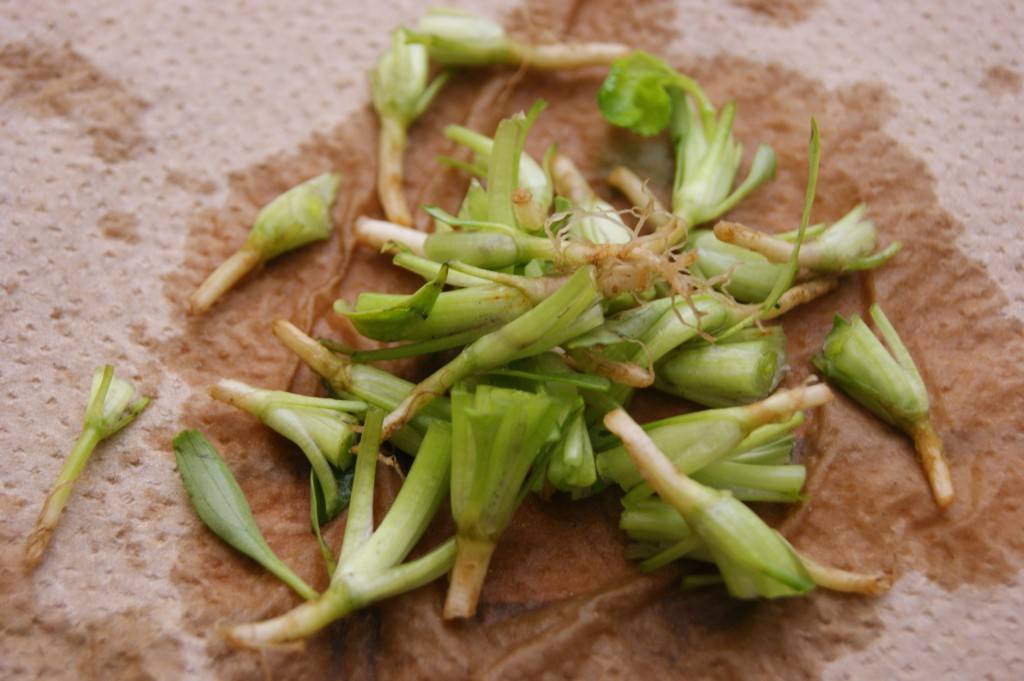 Place drained cilantro on several layers on paper towel and pat dry.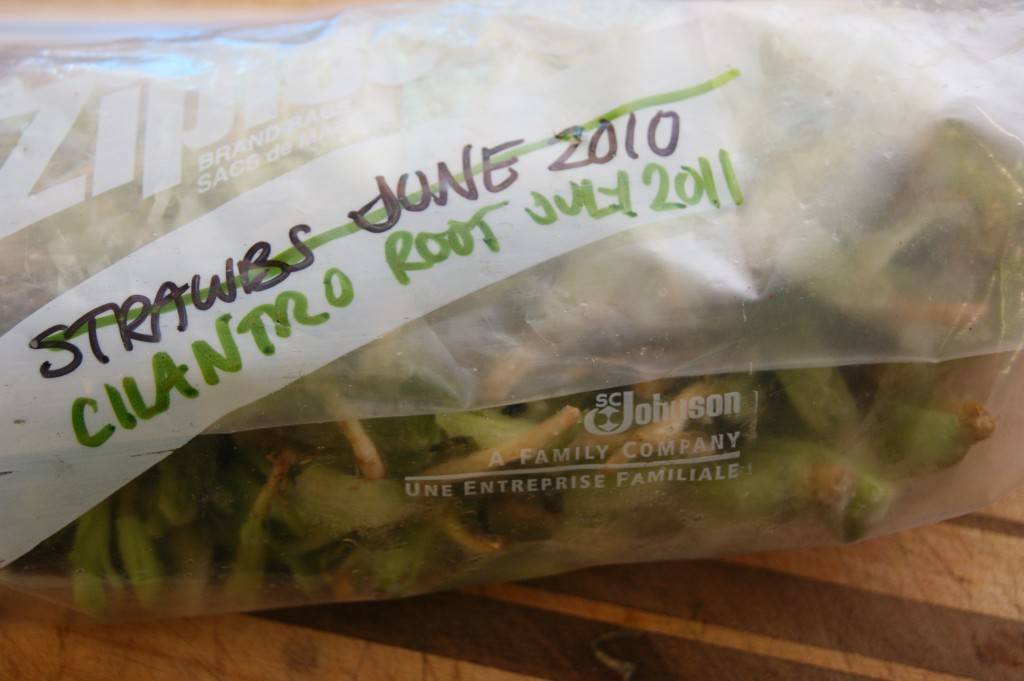 Place in a zipper-lock bag, label, date, and pop in the freezer.
To use: smash the bag against the counter to break up the cilantro, pull out and measure what you need while they are still frozen, let thaw in a bowl (roots will shrink when thawed) and proceed with the recipe, using both the thawed roots and any juices that have come out while thawing.
Thai curry paste, Thai sate marinade, Thai cilantro root & black pepper paste: here we come!
Categories:
Asian Foods
,
Asian Vegetables
,
Cooking in Season
,
Essential Thai
,
Extreme Foodie
,
Feature Ingredients
,
Heidi's How-To
,
Late Spring / Early Summer
,
Locavore Gone Loca
,
Preserving
,
Spices
,
Technique technique technique
,
Thai Ingredients