Blueberry Cobbler with Buttermilk-Brown Sugar Biscuits
July 29, 2019
Blueberry cobbler, bubbling with dark berry juices, topped with craggy buttermilk biscuits sweetened with brown sugar, is an excellent way to use some fresh local BC blueberries.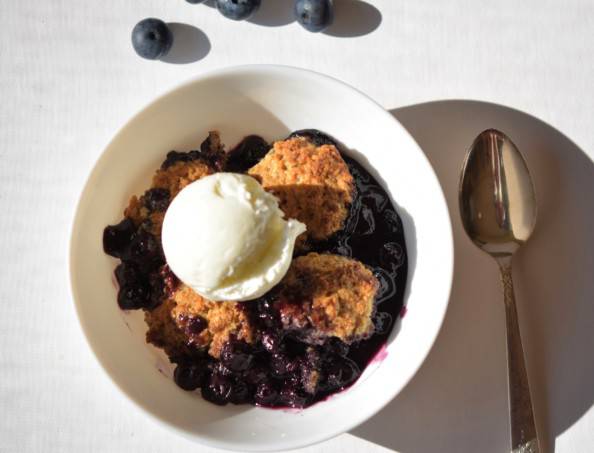 Fun fact: I am an absolute blueberry fanatic. Every summer is a blueberry summer at my house, peaking with the 100-pound blueberry order that I pick up from Ruby Red Farm, and extending through the 40 pounds I buy at Avalon Farm on the way to the lakehouse.
I'm often asked what I do with all those berries. Honestly, I mostly eat them out of hand, by the pound. Yes, I freeze some, and I share quite a lot, but I can never get enough of eating fresh blueberries. The season is not long enough for my fanaticism.
I don't bake with blueberries as much as you'd think, but over the years I have posted some great recipes on this blog: Blueberry Muffins with Streusel, Blueberry Shortcake, Blueberry Smoothsicles, Blueberry Frozen Yogurt.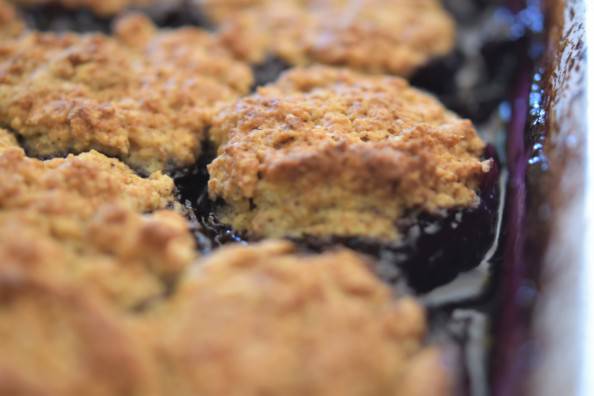 Today, it is time for Blueberry Cobbler with Buttermilk-Brown Sugar Biscuits. Almost as good as my Sour Cherry Cobbler, but adapted for the sweeter nature of the blueberry. Dark berry juices, lightly sweetened and thickened, bubbling wildly around craggy buttermilk biscuits. This cobbler, warm from the oven, literally begs for a scoop of vanilla ice cream, a spoon, and a satisfied smile.
The next day, at room temperature, topped with some Greek yogurt, maybe some fresh berries, and definitely with a side of coffee, this cobbler makes a wonderful breakfast.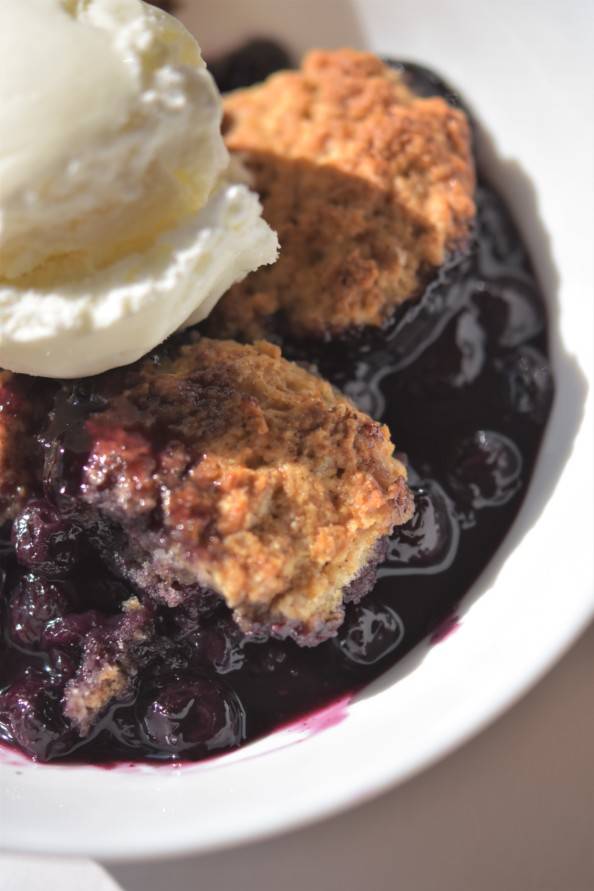 BLUEBERRY COBBLER with BUTTERMILK-BROWN SUGAR BISCUITS
Serves 10 to 12
Filling Ingredients
4 lbs / 1.8 kg blueberries (about 9 cups)
1 cup (200 g) sugar
1-1/2 Tb (25 ml) cornstarch
Biscuit Ingredients
2 cups (280 g) all-purpose flour
1/2 tsp (2.5 ml) salt
3 tsp (15 ml) baking powder
1/2 tsp (2.5 ml) baking soda
5 Tb (75 ml) brown sugar
1/2 (114 g) cup cold butter
3/4 cup plus 2 Tablespoons (220 ml) cold buttermilk
1 tsp (5 ml) vanilla extract
Instructions
1. Preheat oven to 425 F (220 C).
2. In a large casserole dish, about the size of a lasagna pan (9 in by 13 in), place the berries. In a separate bowl, whisk together the sugar and cornstarch until evenly blended. Pour into the berries and mix well. Cover the pan tightly with foil and place in the hot oven. Bake for 15 minutes, remove from oven, stir well, cover tightly again, and return to the oven for another 5 to 10 minutes, until berries have broken down and the juices are bubbly and dark purple.
3. While the blueberries are in the oven, make the biscuits. In a medium bowl, whisk together all the dry ingredients, including the sugar. Using two butter knives, a pastry blender, or your fingers, cut the cold butter into the dry ingredients until the mixture is crumbly, with pieces of butter no bigger than a small pea. In a separate small bowl, whisk together the buttermilk and vanilla extract. using a fork, quickly stir the buttermilk mixture into the dry mixture, switching to mxining with your hands, of necessary, until dough holds together.
4. Turn dough out onto floured counter and gently pat into a disk about 1/2-inch thick. Cut with a small round biscuit cutter, reusing scraps until all the dough is cut.
5. As soon as the berries are hot, juicy and bubbly, remove the pan from the oven and remove the foil. Stir the filling mixture one more time. While the filling is still hot, place the biscuits on teh filling, arranging in a nice pattern if you can. Return thr pan to the oven and bake 20 to 25 minutes more, until the biscuits are golden brown and the filling has thickened somewhat. Remove cobbler to a wire rack to cool.
6. Serve cobbler warm or at room temperature.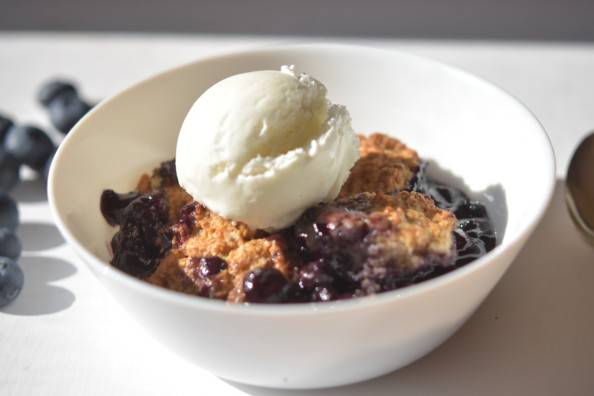 You May Also Like These Recipes:
Categories:
Baking
,
Baking and Treats
,
Cooking in Season
,
Feature Ingredients
,
Foodgasm!
,
Fruit
,
Fruit
,
Heidi's How-To
,
Kid Friendly
,
Late Spring / Early Summer
,
Local Harvest
,
Locavore Gone Loca
,
Recipes