Fruity Frozen Yogurt
August 1, 2015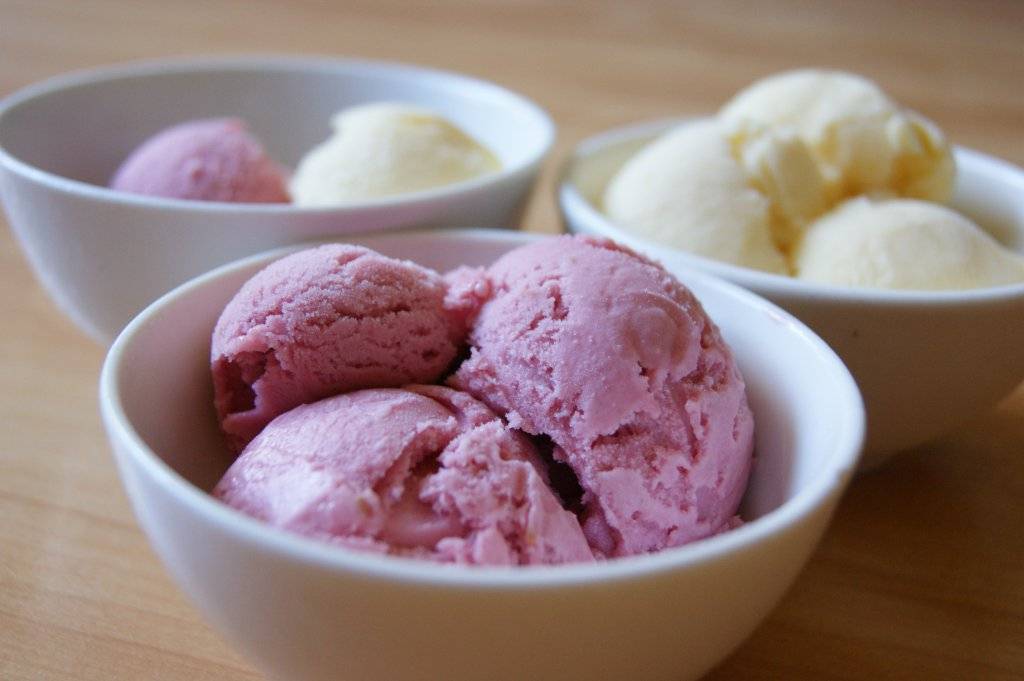 My summer holiday has been cut a bit short this year, and I'm happy about it. It's not every day that I get an opportunity to work with one of my favourite ever food brands. I've spent nearly two weeks developing recipes for a local yogurt company, Tree Island Yogurt – of which I have at least half a litre in my fridge at all times anyway.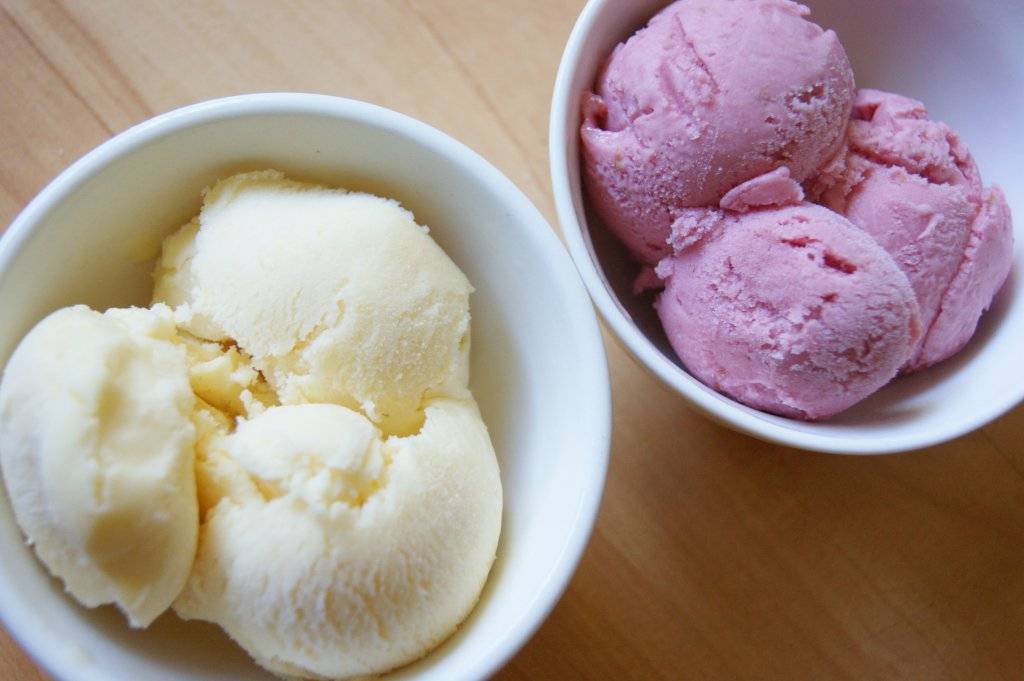 Of all the recipes I have worked on, the Fruity Frozen Yogurt is by far the winner. Every single person, child or adult, who has tasted it has groaned, or sighed with bliss, or asked for more, or asked for the recipe. A few have done all of the above.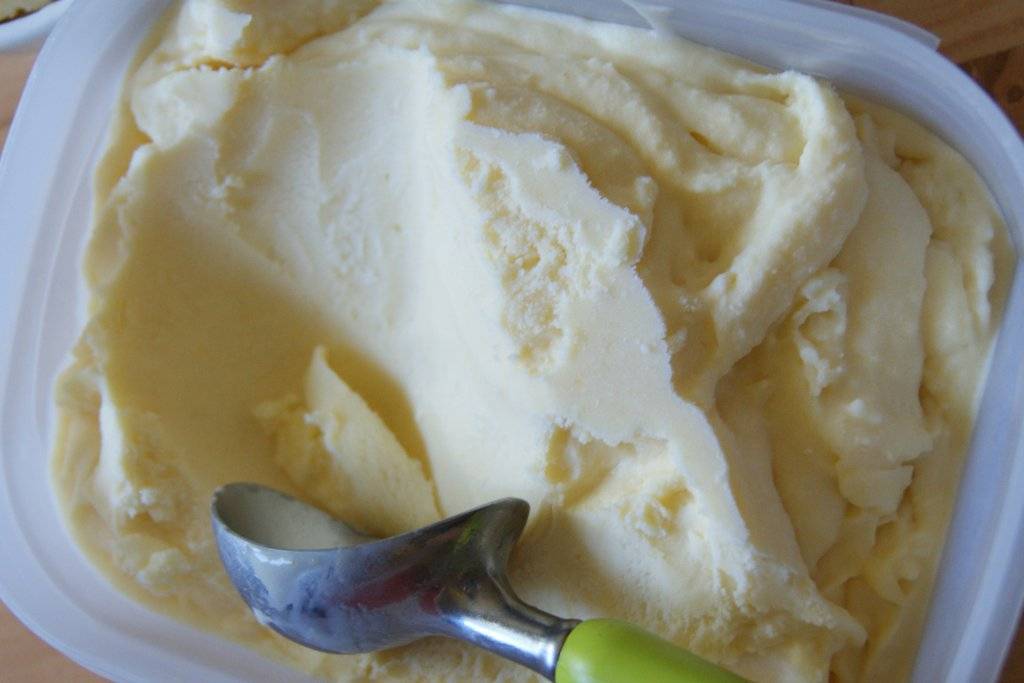 There is plenty of sunshine right now, and plenty of beautiful BC fruit in the markets, both of which call for an ice cold bowl of fruity, creamy, tangy frozen yogurt.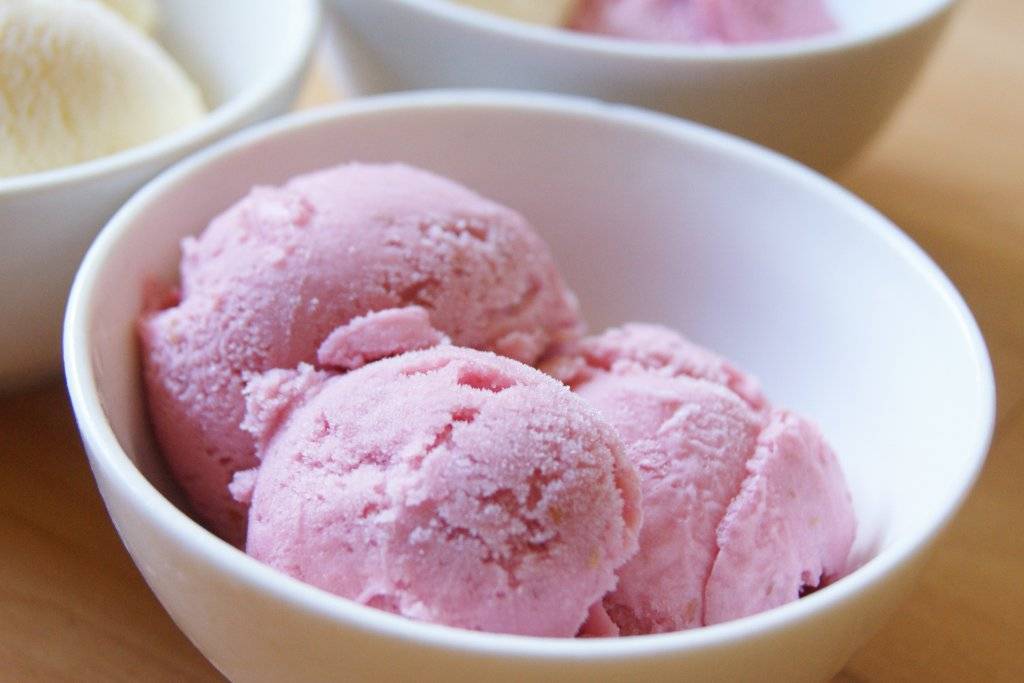 FRUITY FROZEN YOGURT
Makes 4 to 5 cups.
In this extra fruity and slightly tangy dessert, the vodka acts like anti-freeze, helping to keep this delicious homemade frozen yogurt from turning rock-hard in the freezer. This recipe requires the use of an ice cream machine.
ingredients
3 cups (750 ml) fresh or frozen berries OR peeled chopped peaches
Pinch Salt
1½ cups (300 g) sugar, divided
½ cup (125 ml) whole milk
½ cup (125 ml) light cream (10%)
2 large eggs
1-1/3 (330 ml) cups plain natural yogurt
2 tablespoons (30 ml) vodka (optional)
instructions
Mix the berries or chopped peaches, salt, and ¾ cup of the sugar together in a medium bowl. Mash the berries gently with a potato masher until moderately broken down. Let stand, stirring occasionally, until the berries or peaches have released their juices and the sugar has dissolved, 15 – 20 minutes.
Meanwhile, place the milk and cream together in a small pot and heat the mixture until steam is rising, but it is not yet boiling. Remove from heat. In a separate bowl, whisk remaining ¾ cup sugar with the eggs. Whisk about half the warm milk mixture into the beaten egg mixture. Whisk the milk-egg mixture into the warm milk mixture in the saucepan; set the saucepan over medium heat and cook, stirring constantly with a wooden spoon, until steam appears, foam subsides, and the mixture is slightly thickened. This is a called an ice cream custard. (Do not boil the mixture, or the eggs will curdle.) Immediately strain the custard into a clean bowl. Cool to room temperature, stirring it occasionally to help it cool.
While the custard is cooling, put the berry or peach mixture and all its juice in a blender. Add the yogurt and vodka. Puree until smooth. When the custard has cooled until you can touch it comfortably, stir in the berry-yogurt puree. Transfer mixture to a container, cover, and place in the fridge. Chill completely (this takes several hours or overnight.)
Pour the custard-yogurt-berry mixture into the ice cream machine canister and churn, following the manufacturer's instructions, until the mixture resembles soft-serve ice cream. Transfer the frozen yogurt to an airtight container, cover, and freeze until firm, at least 2 hours.
Frozen yogurt can be eaten immediately or kept in the freezer for up to 3 weeks.
You May Also Like These Recipes:
Categories:
Baking and Treats
,
Birthday
,
Cooking in Season
,
Cooking with Kids
,
Feature Ingredients
,
Frozen Desserts
,
Fruit
,
Fruit
,
General
,
Gluten Free
,
Heidi's How-To
,
Kid Friendly
,
Late Spring / Early Summer
,
Late Summer / Early Fall
,
Local Harvest
,
Locavore Gone Loca
,
My Life in Food
,
Recipe Rehab
,
Recipes