Banana Ginger Chutney
May 15, 2020
A fruity sweet-sour flavour and gingery zing make this delicious Banana Ginger Chutney the perfect accompaniment to creamy coconut curries. And it uses up 3 ripe bananas!
Banana ginger chutney is unexpectedly divine; the perfect sweet-sour accompaniment to creamy coconut curries. I know the prospect of cooked banana with shallots and ginger might seem strange, but trust me – this is so much more than the sum of its parts. It really tastes like nothing you would expect from its list of ingredients. This recipe is one of my favourite examples of the wonderful alchemy of cooking.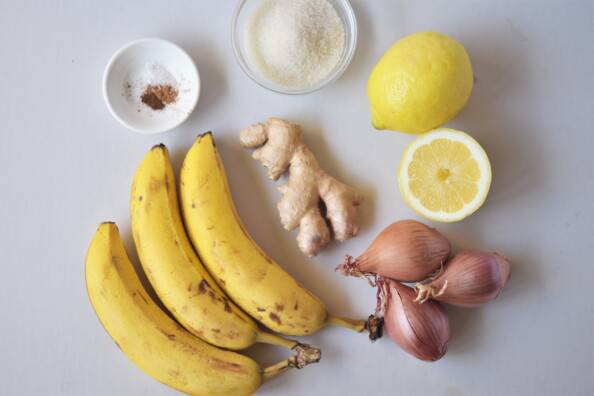 I have been asked by countless people to post my Banana Ginger Chutney recipe to my blog. It's a favourite dish from my South Indian cooking class, where I pair it with a rich and spicy coconut seafood curry. Class participants are are always blown away when they taste it – the fruity tang, the gingery zing, the sweetness, and the lovely mouthfeel, all combined to make a chutney that delights.
Professionally, I've paired it with both South Indian and South East Asian dishes; at home, I've eaten it with grilled meats, with rice & yogurt, and on peanut butter toast, for an upgrade to the classic peanut butter banana sandwich. Better yet, for those of us who struggle with banana management (I see you), this recipe give us a completely new way to use up three overripe bananas before you add them to the growing pile in the freezer.
There is something about this pandemic that is pushing my sanity and my banana situation over the edge, so I was thrilled to have both the time and the excuse to make this. Yes, it was for the blog, but really, it was for ME, so that I could eat one of my favourite chutneys again, and pretend I was back in the teaching kitchen, cooking with you all.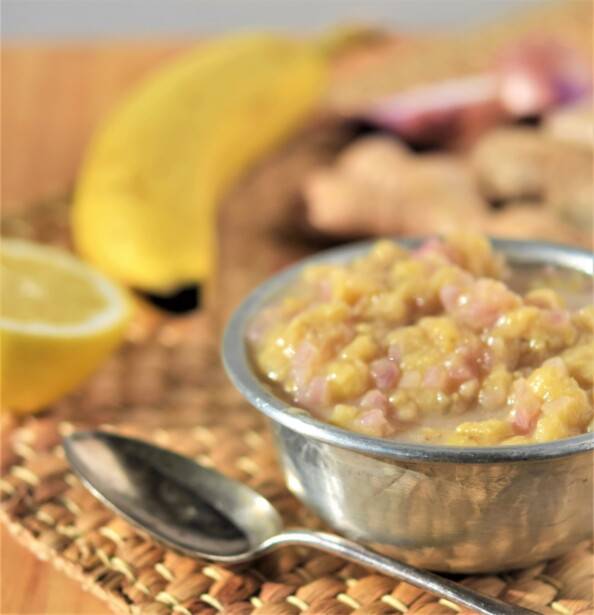 BANANA-GINGER CHUTNEY
Makes 2 cups (500 ml)
The fruity flavour and gingery zing of this unusual chutney make it an excellent complement to creamy South Indian and Thai coconut curries. It's the perfect way to use up three ripe bananas.
ingredients
3 ripe bananas, peeled and sliced or chopped
2 Tb (30 ml) vegetable oil
2 large shallots, peeled and chopped fine (about 3/4 cup / 200 ml)
1 Tb (15 ml) finely minced or grated fresh ginger
pinch EACH ground cloves and cinnamon
pinch salt
3 Tb (45 ml) water
¼ cup (60 ml) fresh lemon juice
¼ cup (60 ml) white sugar
instructions
In a medium saucepan heat oil over medium-high heat. Sauté the shallot for 3 to 4 minutes, or until soft and translucent. Add the ginger and spices and sauté about 30 seconds more.
Add the water to the pan and stir to scrape up any bits that are stuck to the bottom. Stir in the lemon juice, bananas and the sugar, stirring well to dissolve sugar and to mix all the ingredients well.
Bring to a boil, then reduce heat to low and simmer gently, stirring occasionally, for about 10 minutes, until the bananas are soft and mostly broken down, and the juices have thickened. Transfer to a bowl to let cool. It will thicken more as it cools.
Serve warm, cold or at room temperature. Transfer to a glass jar with a lid for storage in the fridge. This chutney will keep about 5 days in the fridge.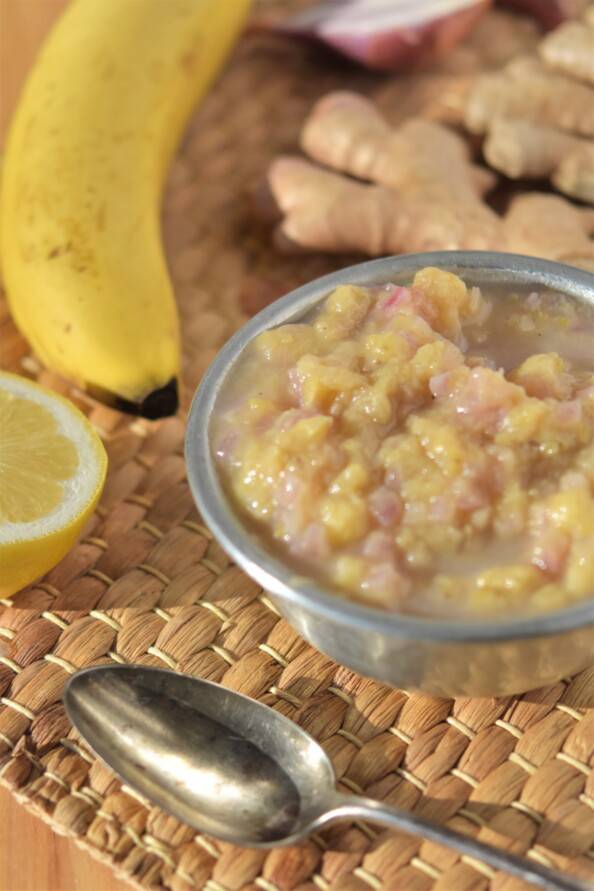 You May Also Like These Recipes:
Categories:
Appetizers
,
Asian
,
Fruit
,
Fruit
,
Gluten Free
,
Heidi's How-To
,
Indian
,
Operation Use-It-Up
,
Preserving
,
Recipes
,
Vegetarian