South Indian Coconut Seafood Curry
May 31, 2020
The delicious coconut seafood curry from Southern India will wow you with its lip-smacking flavour and luscious mouthfeel.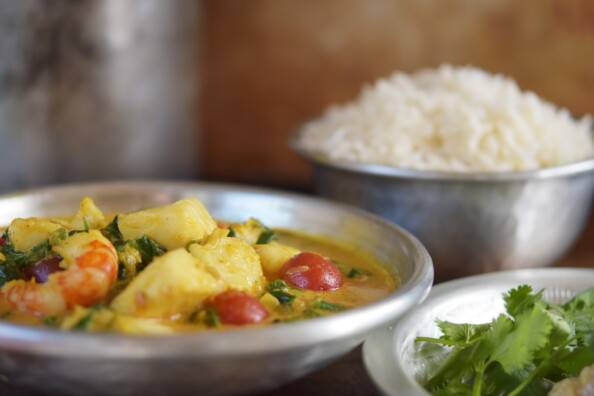 I present to you this, my favourite Indian curry: South Indian Coconut Seafood Curry. Fragrant, flavourful, and distinctive, this curry brings me back to the absolutely delicious food I enjoyed in the South of India, whose incomparable cuisine is one of my favourites. The spice combinations, ingredients and cooking techniques of South India are different than what you may have been exposed to when eating Indian food in North America, but it is well worth seeking out.
In highlighting the cuisines of many cultures, I hope to promote inclusion, understanding, and celebration. Food is political; food is history – both personal and global; food is for many of us, the gateway to learning about another culture. Hopefully, it does not stop with just the food. As a first step, I urge you to find a copy of the amazing cookbook A Taste of India, by Madhur Jaffrey. It is a loving tribute to the various states, languages, and food cultures of India, and a collection of superb recipes. Most of my early learning about Indian food (after my early childhood in an Indo-Canadian neighbourhood, and my travels to the subcontinent) come from her book.
Last week, I posted a South Indian Spice Mix (inspired by my time in South India and my desire to replicate its glorious cuisine) as a precursor to this amazing South Indian Coconut Seafood Curry. I hope you made it already, because you are that much closer to making this wonderful recipe.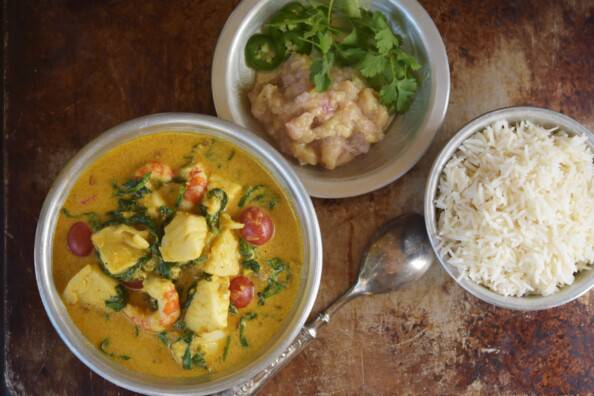 Now is the time to make South Indian Coconut Seafood Curry. The local spot prawn and side stripe shrimp season is upon us and I think there is no better way to enjoy that sweet delicious seafood than in this sauce, whose spicing beautifully enhances the enjoyment of prawns and white fish.
This recipe is easily made in stages: the spice mix can be made several weeks in advance; the curry sauce can be made several days in advance; the dish itself takes very little time to cook. I always make sure to have a batch of Banana Ginger Chutney made to enjoy with this curry – it is a perfect pairing.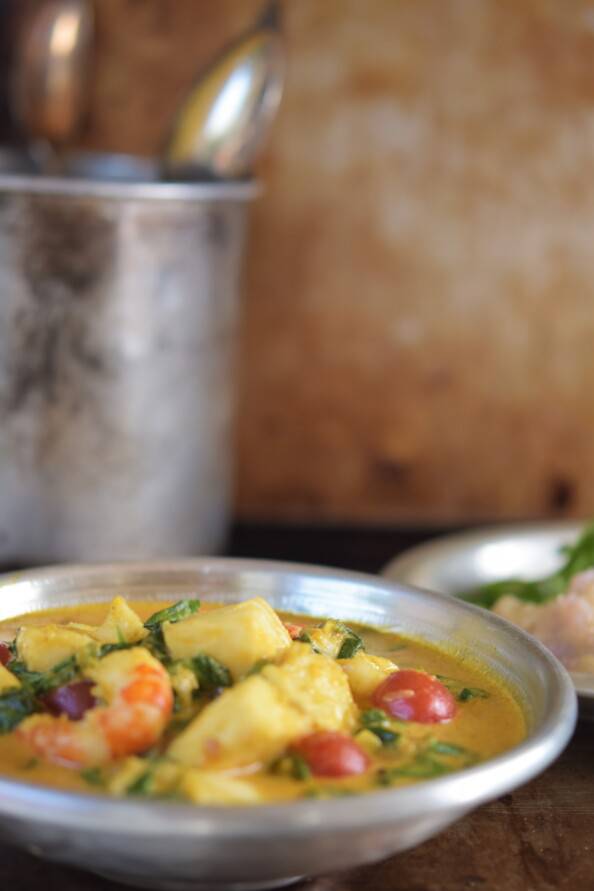 SOUTH INDIAN COCNUT SEAFOOD CURRY
Serves 4 to 6.
A fragrant and delicious curry, this brings me right back to coastal southern India and its distinctive cuisine. If you have already made the South Indian Spice Mix, this recipe is quick to throw together. Try it during local spot prawn or halibut season!
ingredients
60 ml (4 Tb) vegetable oil
5 ml (1 tsp) whole black mustard seeds
2 large shallots, diced fine (about 250 ml / 1 cup)
1 or 2 jalapeños, minced
12 fresh or dry curry leaves
5 cloves garlic, minced
15 ml (1 Tb) finely grated fresh ginger
45 ml (3 Tb) South Indian Dry Spice Mix (see last week's post for the recipe)
60 ml (1/4 cup) water
400 ml can coconut milk (NOT "light")
7.5 ml (1-1/2 tsp) salt
~
900 g (2 lbs) fresh seafood and/or fish (prawns, scallops, white fish)
(in this batch, I used 1 lb of side stripe shrimp and 1 lb of halibut)
1 large bunch fresh spinach, sliced
3 to 4 roma tomatoes, chopped
15 ml (1 Tb) fresh lemon juice
½ bunch fresh cilantro, chopped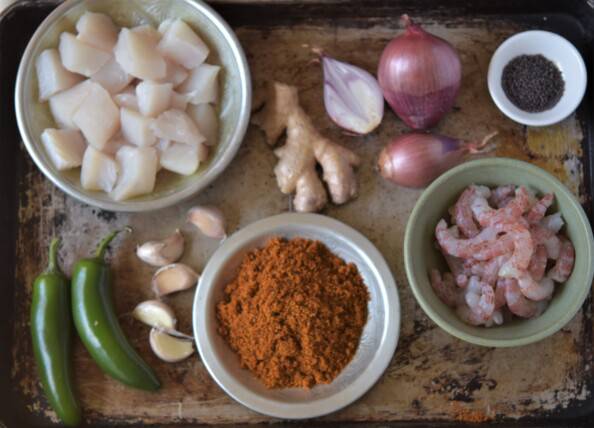 instructions
Coconut Curry Sauce: First, open the can of coconut milk. There should be a solid layer of very thick coconut "cream" sitting at the top of the can. Scoop out 80 ml (1/3 cup) of this solid cream and set aside.
Heat oil and black mustard seeds together in a heavy-bottomed saucepan over medium-high heat. Cover with a lid. When the seeds turn gray and pop, remove the lid and add the shallot. Reduce heat to medium. Sauté, stirring, for about 3 or 4 minutes, until the shallot is translucent and turning golden at the edges. Add the jalapenos and saute for about 30 seconds. Add the curry leaves, ginger, and garlic. Stir for 10 seconds, then add the dry spice mix and cook, stirring vigorously, for 30 seconds. Add the water and the 80 ml (1/3 cup) of thick coconut "cream" that you earlier set aside, and the salt. Reduce heat and let simmer until the water from the coconut cream has evaporated and the oil separates and pools on top. This may take several minutes minutes. This is a very important step to making sure the spices are cooked properly.
Now add the remaining coconut milk, reduce heat to low and simmer very gently for 5  minutes. Be sure not to boil the sauce or it will split. You may use this sauce immediately or let it cool and refrigerate it for up to four days or freeze it for up to 2 months. To use, defrost and bring to a simmer before proceeding with the rest of the recipe.
Coconut Seafood Curry: Peel the prawns, setting aside the shells for use in broth, if desired. If the scallops are very large, cut them in half. Cut the fish into fork-sized pieces. Set all the seafood and fish aside.
Make sure to have all the vegetables chopped and ready, and all the fish and/or seafood prepared before you start to cook this curry, because it cooks very quickly!
Heat the prepared sauce in a sauce pan over medium-high heat, until simmering. Stir in the spinach and the tomatoes. Bring back to a simmer. Immediately stir in the prepared seafood and/or fish, reduce heat to medium-low and simmer until the seafood is just opaque and the fish has *just* started to flake, about 3 to 4 minutes. Stir in the cilantro and lemon juice, and serve immediately.
Serve over a bed of basmati rice. Good accompaniments are banana chutney or spicy green chutney, pappadums, and yogurt raita.
You May Also Like These Recipes: