South Indian Spice Mix | Kerala Masala
May 26, 2020
Complex, nutty, fragrant, earthy  – this Kerala masala (South Indian spice mix) has a depth of flavour that reminds me instantly of my time in South India. 

This Kerala Masala is one of the first "outside the bottle" Indian spice blends I learned to make on my own – back when I first returned from India, when I was determined to make food that tasted like I remembered from my trip (and from my childhood in an Indo-Canadian neighbourhood). As I slowly learned over the next few years how to manipulate spices into mixtures (masalas), I made this banger of a spice mix. I owe thanks to both Madhur Jaffrey and Vikram Vij, as well as to the various cookbooks and Indian cooks who mentored me along the way.
There is no such thing as curry powder in India. There are myriad spices blends and cooking techniques that reflect some of what a Westerner would understand to be "curry," but each mixture, or masala, is different, designed with a particular result in mind.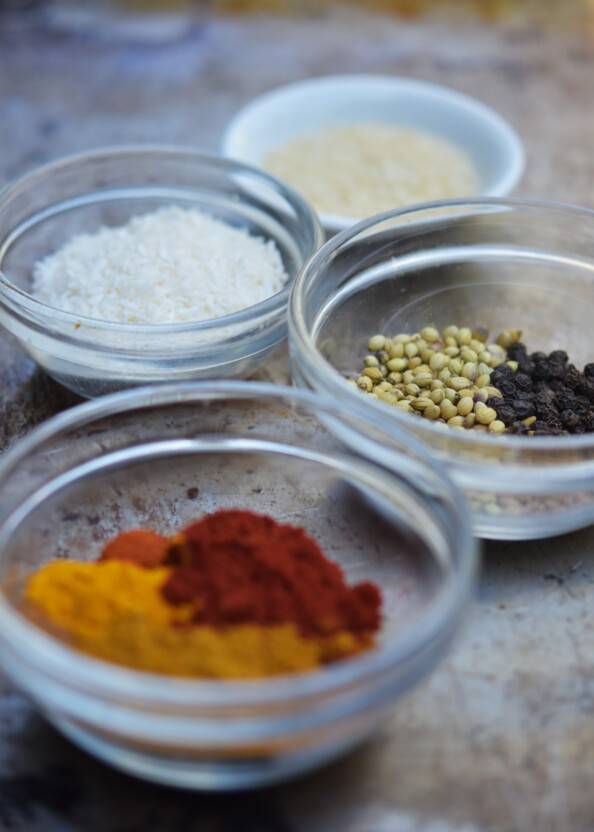 This Kerala Masala is no different. It is designed to be used as a spice mix for coconut curry sauce, specifically to be used on fish & seafood, which is abundant on the coasts of South India. The spices in this mixture play perfectly to the strengths of both creamy coconut and briny seafood, making a curry that delights in every way. This cuisine – the distinctive spices mixes, sauces, coconut, sourdough rice breads, and seafood from the southern provinces of India – remains one of my favourites in the whole world.
I will be sharing a recipe next week, using this spice blend to make one of my favourite dishes: South Indian coconut seafood curry. But in the meantime, you can make this Kerala masala, enjoy the process and the fragrance filling your kitchen. You can use it in place of regular curry powder and see the difference that a fresh homemade spice blend makes.
SOUTH INDIAN DRY SPICE MIX / KERALA MASALA
One of my favourite spice mixtures from India, this complex and fragrant masala is most commonly used in a South Indian coconut curry sauce for seafood.
1) The addition of toasted rice and coconut to the spice blend is a special flavouring found in many parts of South Asia
2) The oils in this mixture make it more prone to rancidity than usual – plan to use it up within two months
3) This spice mixture makes an excellent gift.
ingredients
2.5 ml (1/2 tsp) vegetable oil
15 ml (1 Tb) raw basmati rice
30 ml (2 Tb) unsweetened coconut flakes
~
15 ml (1 Tb) whole coriander seeds
5 ml (1 tsp) whole black peppercorns
2.5 ml (1/2 tsp) fenugreek seeds
~
15 ml (1 Tb) curry powder
10 ml (2 tsp) paprika
2.5 ml (1/2 tsp) ground turmeric
1 to 2.5 ml (1/4 to 1/2 tsp) cayenne
a pinch of ground cinnamon
instructions
Heat a small skillet over medium heat. Add the vegetable oil. When hot, add the raw rice. Stir to coat with oil. Cook, stirring, until the rice turns light brownish (this may take a while) and then add the coconut flakes and cook until the coconut turns light brown (this takes only a few seconds). Immediately scrape mixture into a bowl to let cool.
Wipe out the skillet and put it back on the heat. This time in a dry skillet (no oil) add the coriander, peppercorns and fenugreek seeds. Cook, stirring, until the seeds turn a shade darker and give off a toasty smell. Remove to a separate bowl and let cool. Grind the toasted rice and coconut to a powder in a clean coffee grinder and place in a bowl (because of the oil, this will have a pasty texture – you will have to scrape it out). Now grind the toasted whole spices to a powder in the grinder and place in the bowl with the rice and coconut. Mix in the remaining spices until well blended.
Store in a glass jar, away from light and heat. This mixture will last about 2 to 3 months.
You May Also Like These Recipes: