Methi Murgh | Chicken in Fenugreek Curry
September 27, 2016
This is a divine chicken curry: rich, sophisticated, flavourful, with a delicate complexity from the proper cooking of Indian spices and herbs.
I have raved about fresh fenugreek before. It is absolutely one of my favourite green vegetables – or should I call it a herb? The intense aroma of its leaves means that fenugreek can swing both ways.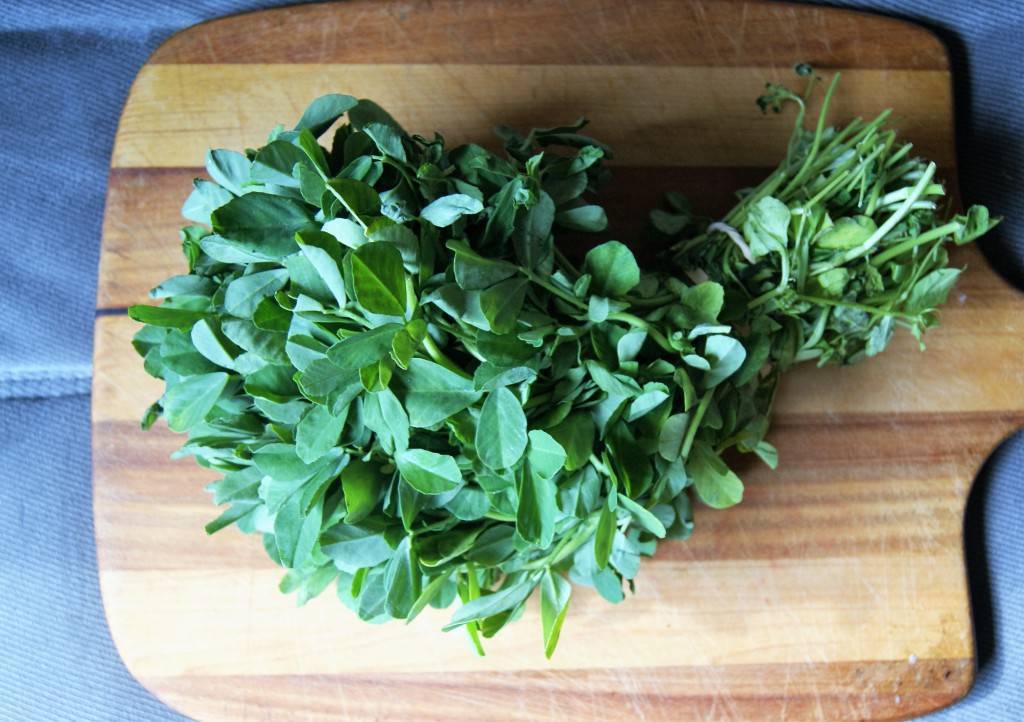 Known in Hindi as methi, fenugreek has a distinctive pungent flavour that I can only describe as Ultra-Curry. . .  and Delicious. Methi is used as both a herb and a leafy vegetable; its seeds are an integral component of most curry powders. I would venture to say that fenugreek on its own, along with cumin, carries the bulk of the flavour that we Westerners think of as 'curried'.
Methi leaves are used in a variety of traditional Indian dishes: as part of mixed vegetables (often with young potatoes), as part of curry sauces, as a component of (or filling for) flatbreads, or as the main ingredient in a dish such as methi paneer.
My personal favourite use for fenugreek is Methi Murgh: Chicken in a Fenugreek Sauce. It is divine: rich, sophisticated, flavourful, ultra-curry but with a delicate complexity unknown to most who have not tried real authentic Indian food.
Methi Murgh is not only my favourite way to use fenugreek, it is my favourite Indian dish, period. Make it, and make it soon.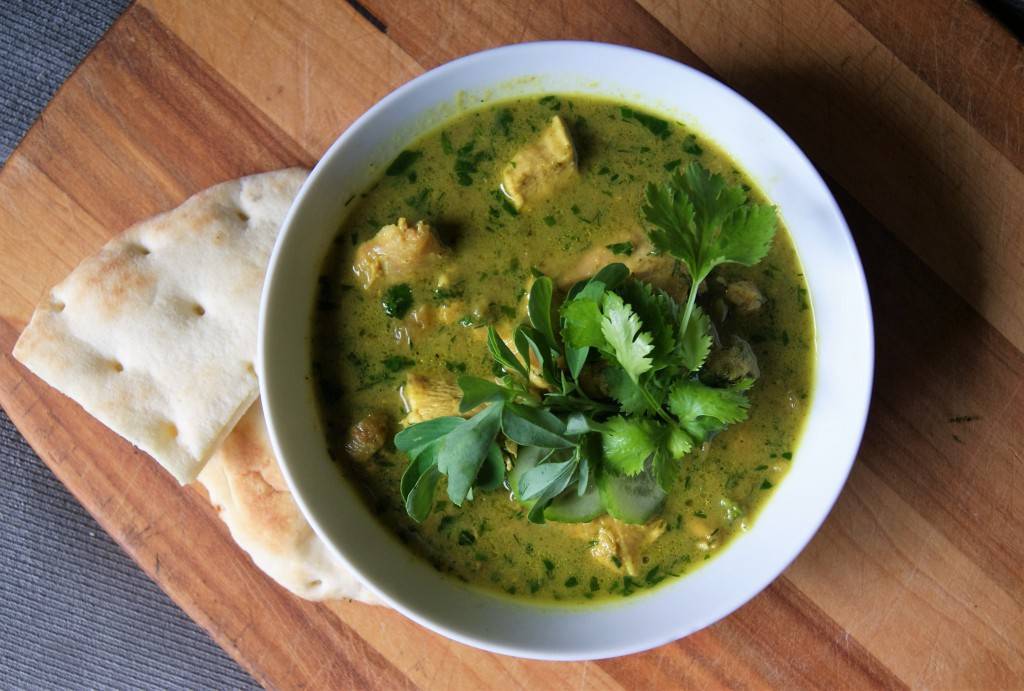 CHICKEN IN FENUGREEK SAUCE
Serves 6, with rice and/or flatbread
This favourite springtime specialty is made with the seasonal green leaves from the fenugreek plant, known as methi in Hindi. Methi (fenugreek) is available in late spring through early fall at supermarkets and farm markets. Find it now in Victoria at The Root Cellar.
This recipe is adapted from the cookbook A Taste of India by Madhur Jaffrey.
ingredients
1-1/2 cups fresh fenugreek leaves, OR ½ cup dried fenugreek (methi)
6 Tbs vegetable oil or ghee
3 large onions, peeled, halved and cut into fine half-rings
Four 1-inch cubes fresh ginger, peeled
8 to 10 cloves garlic, peeled
3 jalapenos or serranos, stemmed and chopped
1 tsp ground turmeric
½ cup water
1¼ cups plain whole-milk yogurt
1½ tsp salt
2 lb boneless skinless chicken thigh, cut into pieces
1 additional jalapeno or serrano, seeded and chopped
½ cup, packed, fresh cilantro leaves
½ cup, packed, fresh dill, finely chopped
½ tsp garam masala
If using fresh fenugreek leaves, soak them in a bowl of salted water for 15 minutes. Drain and squeeze dry with kitchen towels. Chop and set aside.
Heat a wide sauté pan over medium-high heat. Add the oil and let shimmer. Add the prepared onions and sauté until softened and beginning to caramelize, at least 20 minutes, probably longer. Turn down the heat, if necessary to prevent the onions from burning.
Meanwhile, place the garlic, ginger, jalapenos, turmeric and water in a blender and blend until pureed. Once the onions are soft and golden, add the garlic mixture to the pan and sauté until the oil floats on top and the mixture is lightly browned, 5 minutes.
Now add the yogurt, salt, and prepared chicken. Scrape up anything that may have stuck to the bottom of the pan. Bring to a simmer, lower the heat and simmer, covered, for about 15 -18 minutes.
Meanwhile, rinse out the blender. Add the one additional jalapenos, the cilantro and half of the fenugreek leaves (whether you use fresh or dried). Add 1/3 cup water and blend until pureed. Pour this mixture into the pan with the chicken and cook for 5 to 7 more minutes, until chicken is tender.
Finely chop the remaining fresh fenugreek. Add this to the pan along with the fresh dill. Stir well and simmer 3 to 5 minutes more. Taste to adjust the seasonings – you may want more salt. Sprinkle the top with garam masala and serve immediately, with basmati rice, warm flatbreads, and cucumber relish.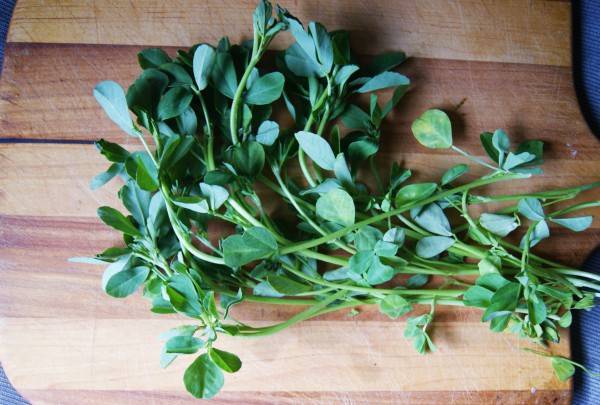 You May Also Like These Recipes: