Gazpacho Andaluz
August 7, 2019
A cold, refreshing, and delicious bowl authentic Spanish Gazpacho Andaluz is exactly the kind of meal we need on a sweltering August afternoon.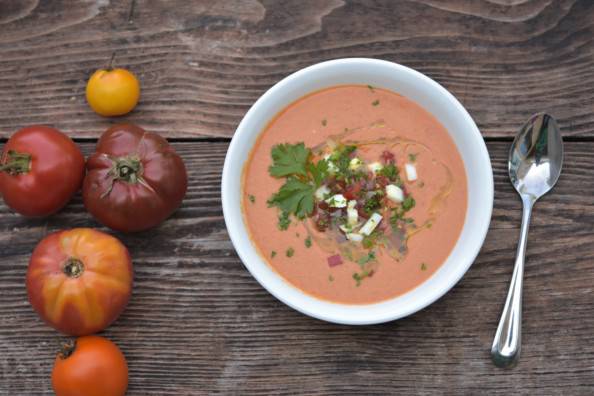 I remember the times I have spent walking through the melting heat in southern Spain, feeling absolutely hot and sweaty and definitely not hungry. .  not hungry, that is, until I was presented with a bowl of chilled Andalusian Gazpacho (Gazpacho Andaluz). Like no Gazpacho I had ever seen before, this soup was smooth, almost creamy, rich with perfectly ripe tomatoes and fruity olive oil, tasting of complex flavours that hinted at other vegetables.
I ate Gazpacho Andaluz almost every day over two separate trips to Spain and never got tired of it. On a third trip to Spain, I finally learned how to make it. The recipe has since become a sleeper hit at my Spanish cooking class, and today I will share it with my faithful blog readers.
This is essential summer eating: ripe tomatoes, cucumbers, peppers, garlic, olive oil, crusty bread, and some seasonings. It requires no cooking, comes together in minutes, and is delicious and soul satisfying in the extreme.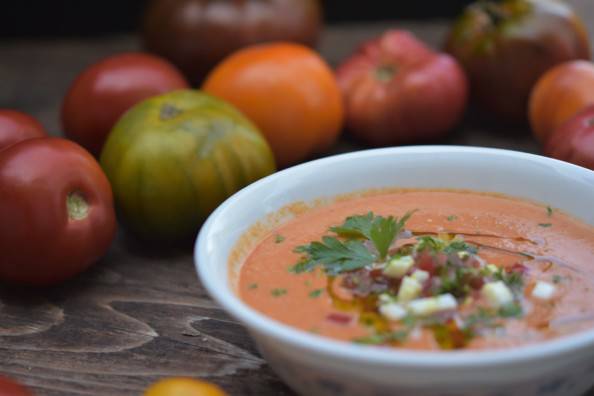 GAZPACHO ANDALUZ
makes 4 cups, to serve 4 to 8 people
This chilled summer soup is best made with vine-ripe tomatoes and very fruity extra virgin olive oil. Simple, delicious, and refreshing on a hot August day!
Soup
1¼ lb (560 gm) fresh ripe tomatoes (about 6)
120 gm seeded green bell pepper (1 medium)
130 gm peeled fresh cucumber (½ Long English)
2 cloves garlic
2 oz (56 gm) good quality crustless bread (about 1 cup bread chunks)
¼ cup cold water, more as needed
¼ cup extra virgin olive oil
1 tsp (5 ml) fine sea salt
4 tsp (20 ml) verjus OR 1 to 2 tsp white wine vinegar
Garnish
2 Tb (30 ml) finely chopped cucumber
2 Tb (30 ml) finely chopped tomato
2 Tb (30 ml) finely chopped sweet onion
2 Tb (30 ml) finely chopped sweet pepper
2 Tb (30 ml) finely chopped herbs (parsley)
1 finely chopped hard-boiled egg
1 Tb (15 ml) Extra virgin olive oil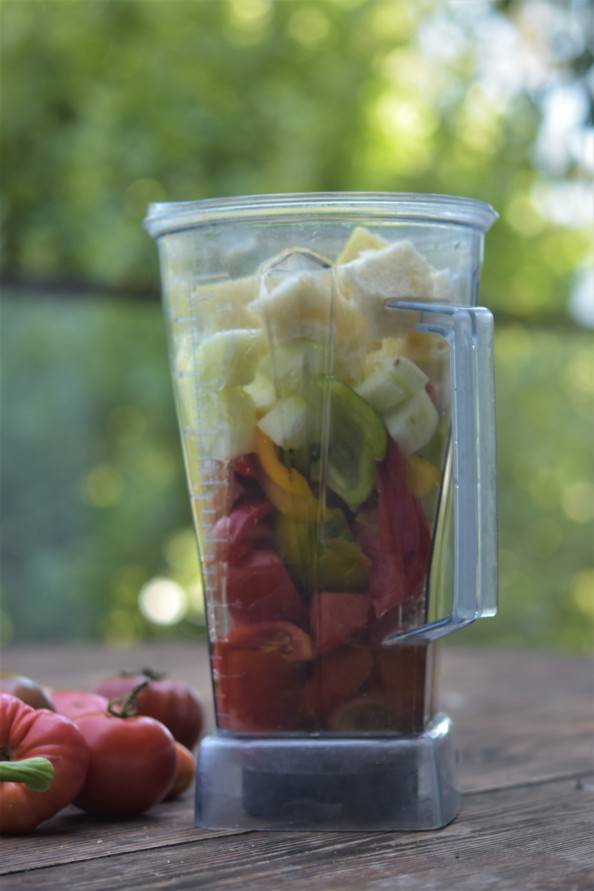 Instructions – Soup
Chop everything into chunks and place in a blender. Puree until completely smooth, adding a bit more water if necessary. Taste for seasoning, adjusting the salt, oil, and vinegar as desired. Feel free to add a pinch of sugar if your tomatoes were very tart. Pour the soup into a container and chill in the fridge or freezer while preparing the garnishes.
Instructions – Garnish
Serve each bowl of soup with a spoonful of each of the garnishes sprinkled on top. Drizzle with extra virgin olive oil and serve.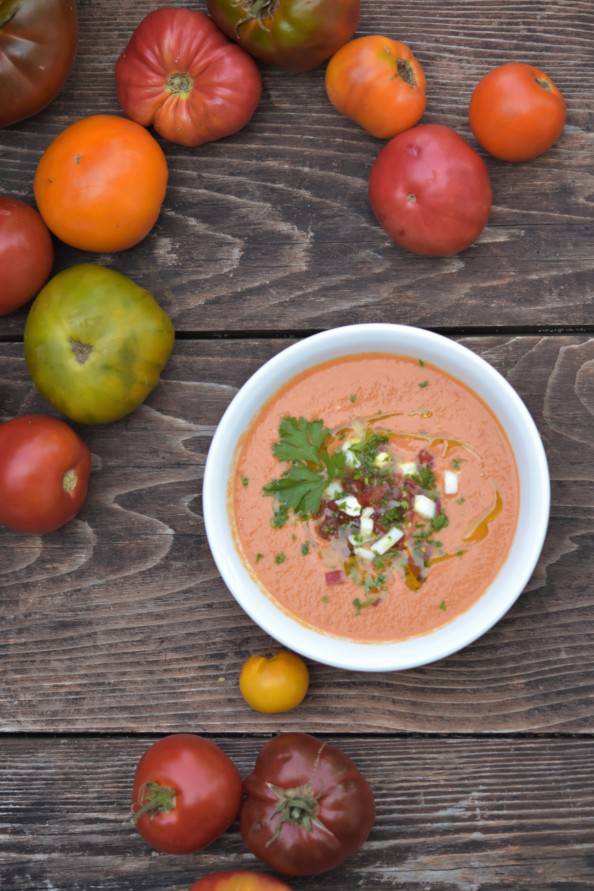 You May Also Like These Recipes:
Categories:
Appetizers
,
Cooking in Season
,
Feature Ingredients
,
Foodgasm!
,
Late Summer / Early Fall
,
Local Harvest
,
Locavore Gone Loca
,
Lunch ideas
,
My Life in Food
,
Recipes
,
Simple Summer Meals
,
Soups
,
Vegetarian