Wild Nettle-kopita
April 18, 2011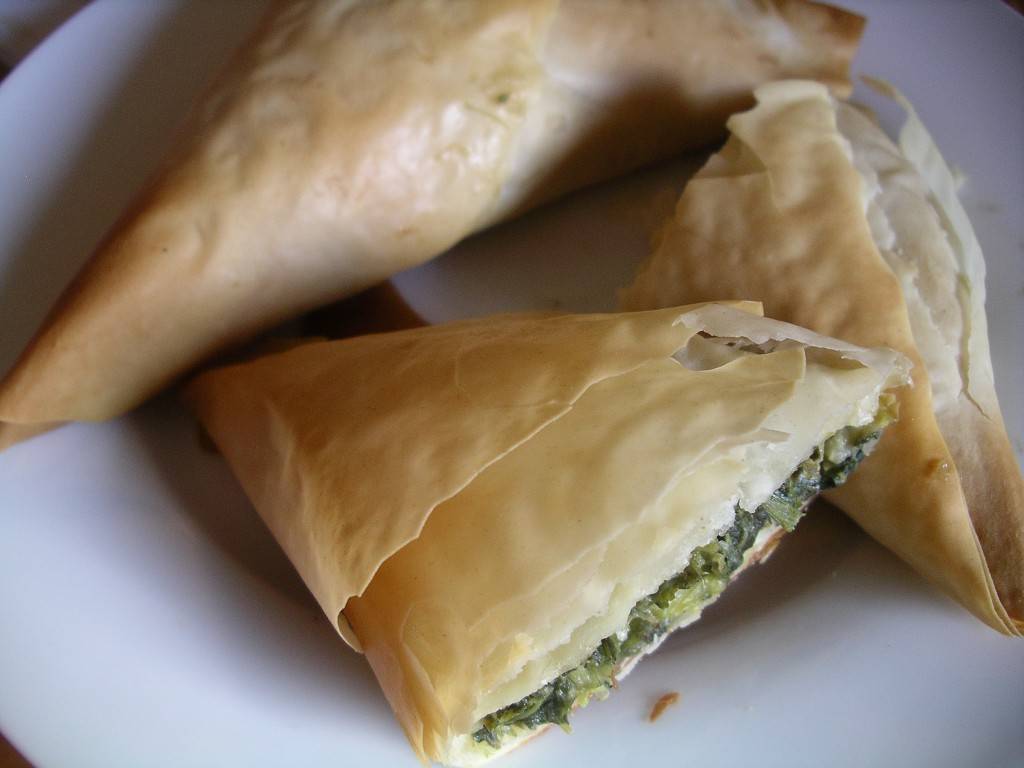 A springtime favourite, Spanakopita made with wild nettles instead of spinach = Nettlekopita. I'm sure the Greeks would have a different name for it, but I'm attached to my made-up name, using it as I have for at least a dozen years.
I usually forage for wild nettles around Easter-time, along with my brother-in-law, known around here as Uncle Sal (but elsewhere as Sweet Rock Farmer). However, this year, perhaps on account of Easter coming late, or maybe because I needed nettles sooner than usual, I bought some local wild nettles at my favourite little neighbourhood grocery store, Niagara Grocery.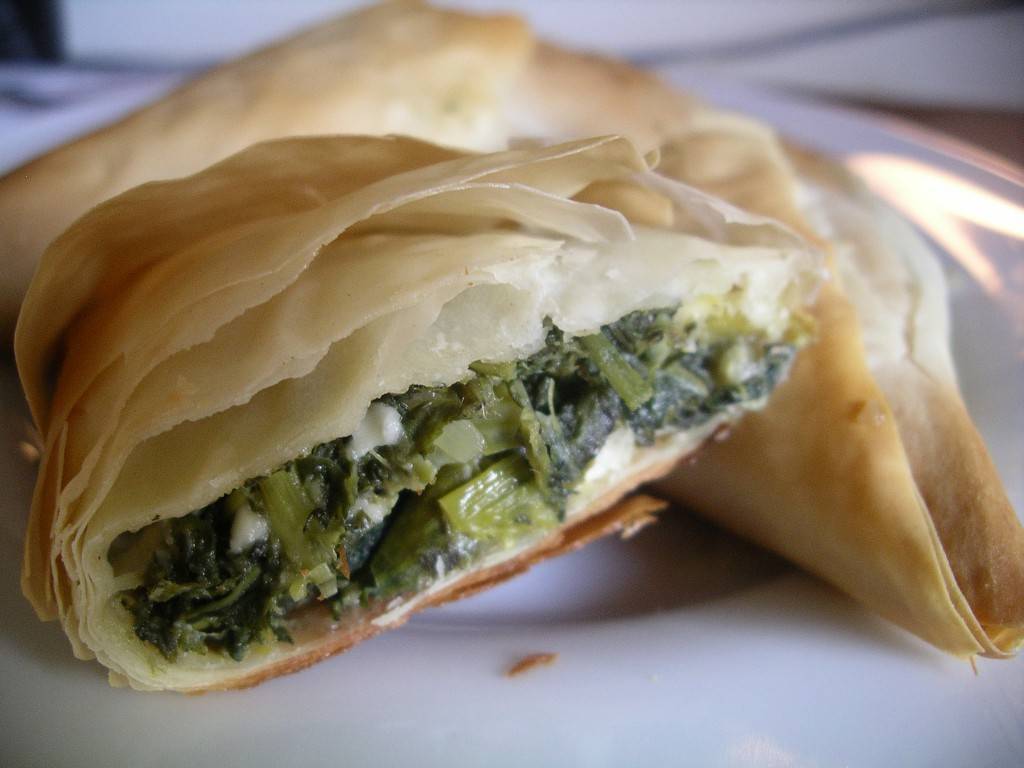 Also called Nettle Hand Pies
It felt the teeniest bit sacrilegious to be buying wild nettles, but, after all, my nettlekopita tasted the same as usual. And that is: Divine. Nettlekopita is the greenest essence of spring, mingling with sweet leeks and salty cheese, and a buttery toasty pastry crunch with every bite. Mmmmmmm.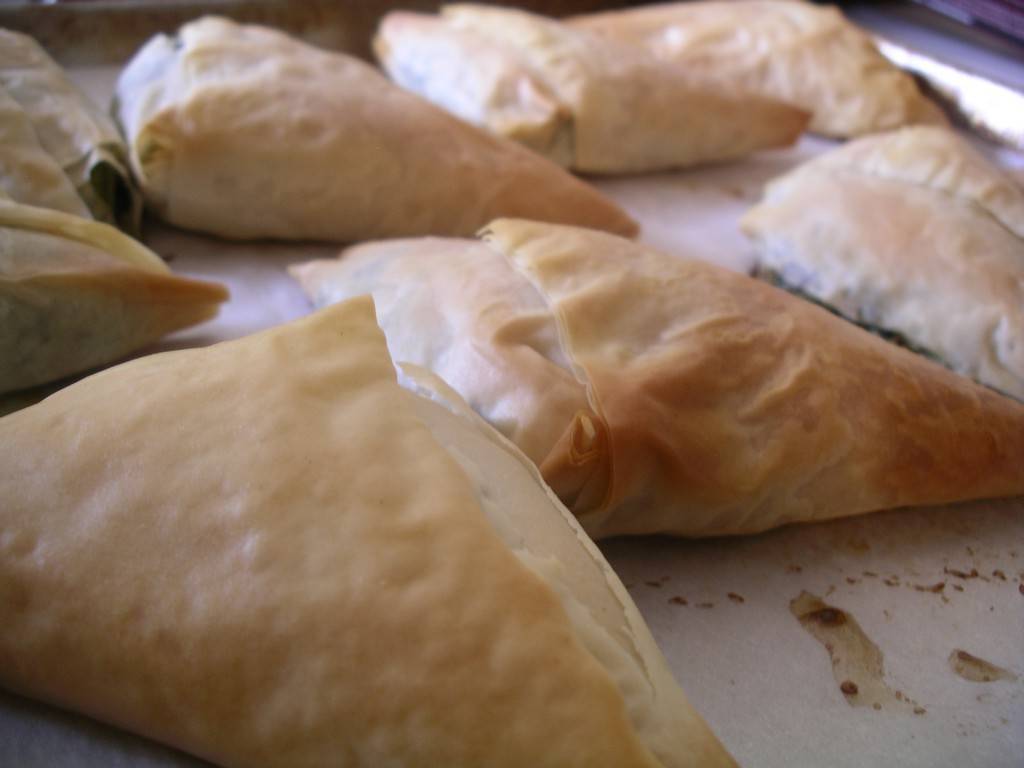 [start_recipe]
Wild Nettlekopita
Makes 18 pastries, to feed 6 to 8 people
In years past, I have used 400-500 grams of cottage cheese instead of the 250 grams of sheep feta called for here. I still prefer the milder, creamier flavour of the cottage cheese in this recipe, but I have made adjustments to suit the needs of my younger son, who is lactose-intolerant.
ingredients
3/4 lb wild nettles
1/4 lb spinach (or use more nettles)
3 to 5 leeks (4 cups sliced)
1/4 cup butter
1 tsp chopped fresh thyme
1/2 tsp dried oregano, or 1 tsp fresh
1/4 tsp salt, or more, to taste
1/4 tsp pepper
250 gm sheep feta (1-1/2 to 2 cups crumbled)
1/4 cup minced fresh dill (or parsley)
2 eggs
1 pkg filo pastry (available in the frozen aisle of the grocery store – let this thaw at room temp)
1/2 to 3/4 cup melted butter (for pastry)
instructions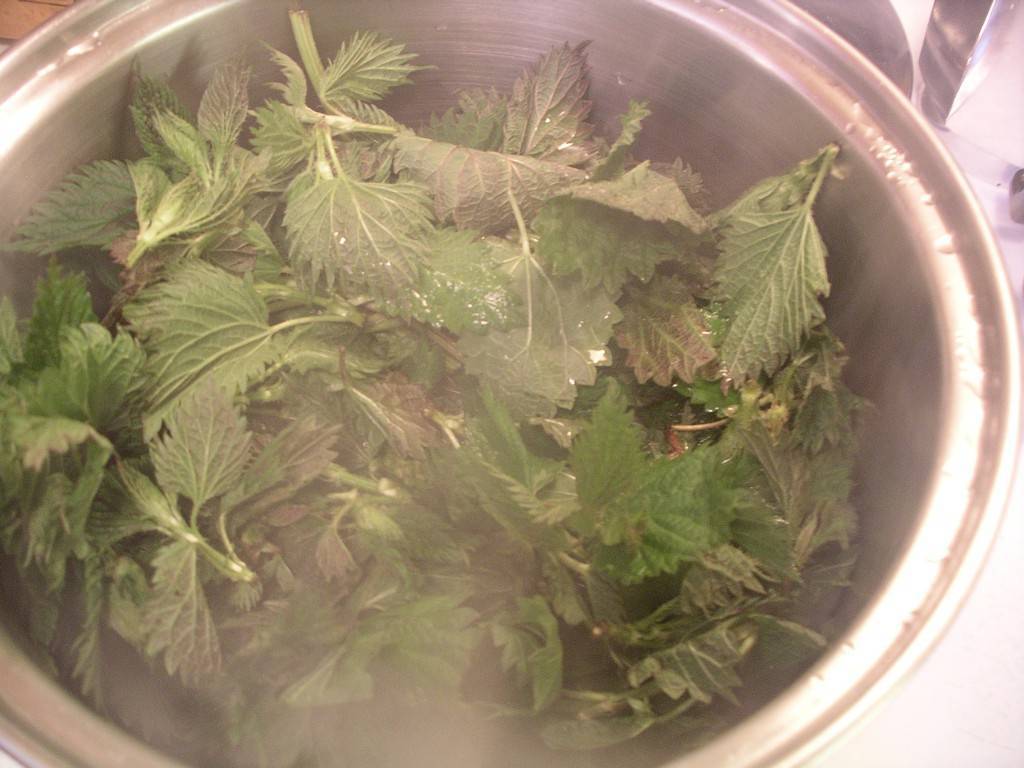 steaming the nettles
1. Get out your largest pot. Put a couple of inches of water in the bottom and bring to a boil. Being very careful not to touch the nettles (or using rubber gloves, in case you think you might), dump all of the nettles into the pot. Cover and let the nettles steam for 3 to 7 minutes, until wilted and tender. It is helpful to stir the nettles around with tongs from time to time. Use tongs to remove the nettles from the pot and place on a tray to cool.
wilted nettles
2. Repeat process with the spinach, minus the rubber gloves and extreme care. Also, spinach will only take a minute to wilt.
3. Cut leeks in half lengthwise, but leave the root intact. Run the leeks under cool running water to remove any dirt trapped between the leaves. Shake dry. Slice the white and light green parts of the leeks crosswise. You shoul have 4 cups of sliced leeks, so keep rinsing and slicing until you have enough.
4. Get out a large saute pan and heat it up over medium heat. Add the 1/4 cup butter and let melt. Add the prepared leeks and saute for several minutes, stirring frequently, until the leeks are soft and sweet (but not browned).  Add the thyme and oregano and saute until fragrant, about 1 minute. Scrape this into a large bowl and let cool.
Nettles, steamed, squeezed, and chopped
5. The nettles should be cool by now. Pick through and remove any large stems – these tend to be tough. Then, use your hands to squeeze the nettles, handful by handful, until you have removed as much excess water as you can. As you finish squeezing each handful, place it on a cutting board, until you have a tray full of dark green water and a cutting board full of squeezed nettles, looking a bit like frozen spinach (except way better). Discard the water. Repeat with spinach, if using.
6. Chop prepared nettles and spinach finely (this takes some doing) and scrape into the bowl with the leeks.  Add the salt, pepper, and dill.
7. Crumble the feta cheese into very small pieces and add to the bowl with the nettles and leeks. Mix well with your hands until the filling is evenly mixed. Taste for salt and add more if you think it needs it.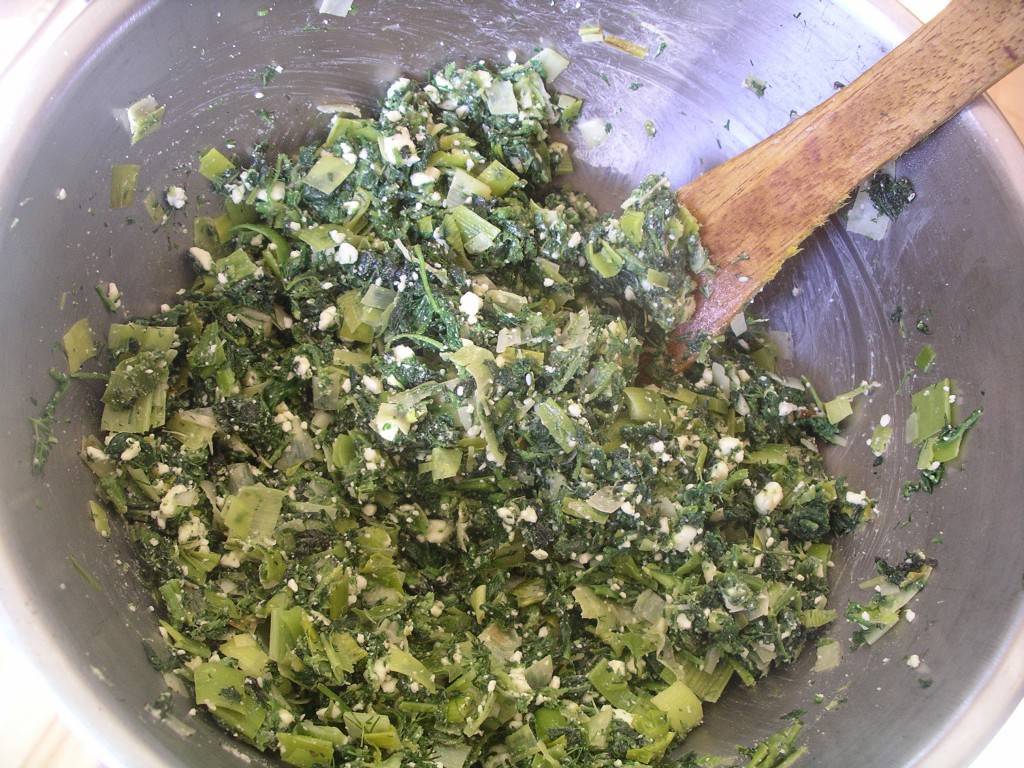 Nettlekopita filling
8. Crack the eggs into a small bowl and beat them until evenly coloured. Add the eggs to the filling and mix well with a wooden spoon until evenly mixed.
9. Prepare to roll nettlekopitas. Preheat oven to 375 F. Melt 1/2 to 3/4 cup butter in a small pot. Clean off you counter and rub it dry. Have ready a pastry brush, two baking trays lined with parchment paper, a small paring knife, the filling with a soup spoon in it, and lots of clean counter space. Place a clean tea towel or piece of parchment down on the counter on one side of you. Open the package of filo pastry and carefully unroll the pastry onto the towel or parchment. Cover with another clean dry tea towel. Get a thrid towel out and moisten it, wring it as dry as you can, and place this over the dry towel that is covering the filo. (This double tea towel business ensures that the filo won't dry out, nor will it get soggy and stick together.)
10. Remove the top two tea towels from your filo. Gently remove one sheet of filo and place on the counter in front of you lengthwise. (Like a piece of paper – short side on the bottom, long sides on the sides.) Brush with an even coating of melted butter. Now remove two sheets of filo and place them carefully on top of the first, lining them up as much as you can. Cover the pile of unused filo again with the two towels (dry one first, damp one second). Brush the top of the filo sheet in front of you with melted butter, covering evenly. Cut the stack of buttered filo into three long even strips. Spoon about 3 to 4 tablespoons of filling on the bottoms of each strip like so: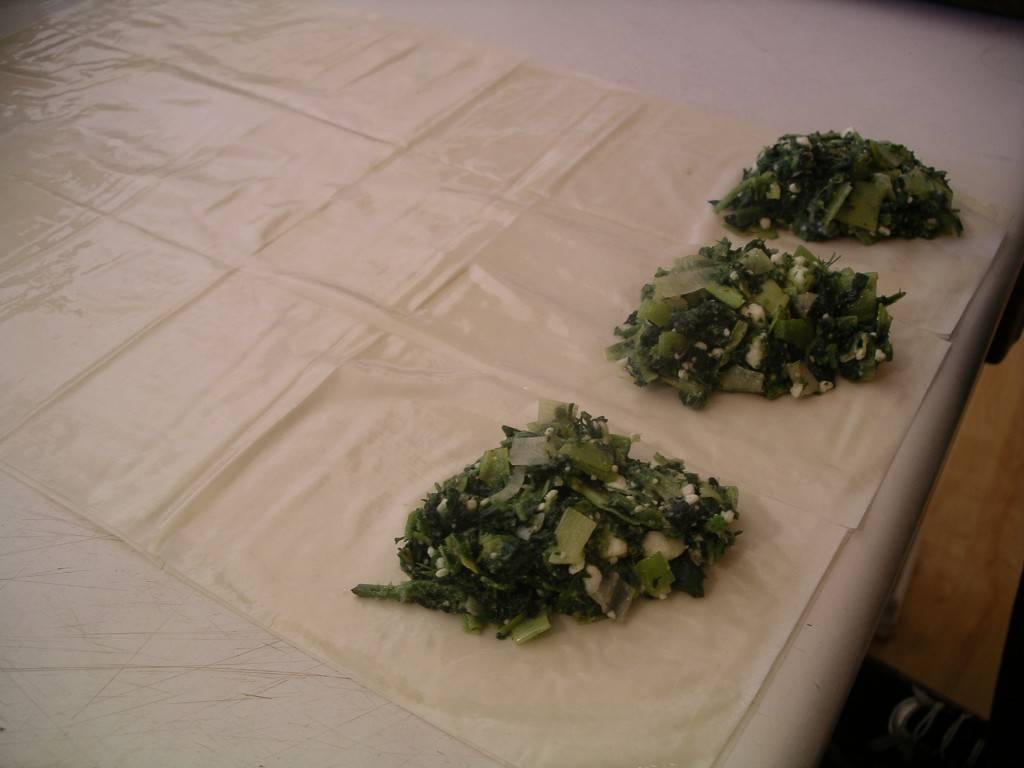 Filo, buttered and cut into strips, filling placed strategically
11. Fold the bottom of the filo over like a triangle and continue rolling until you have run out of filo. Repeat with the other two strips. Like so: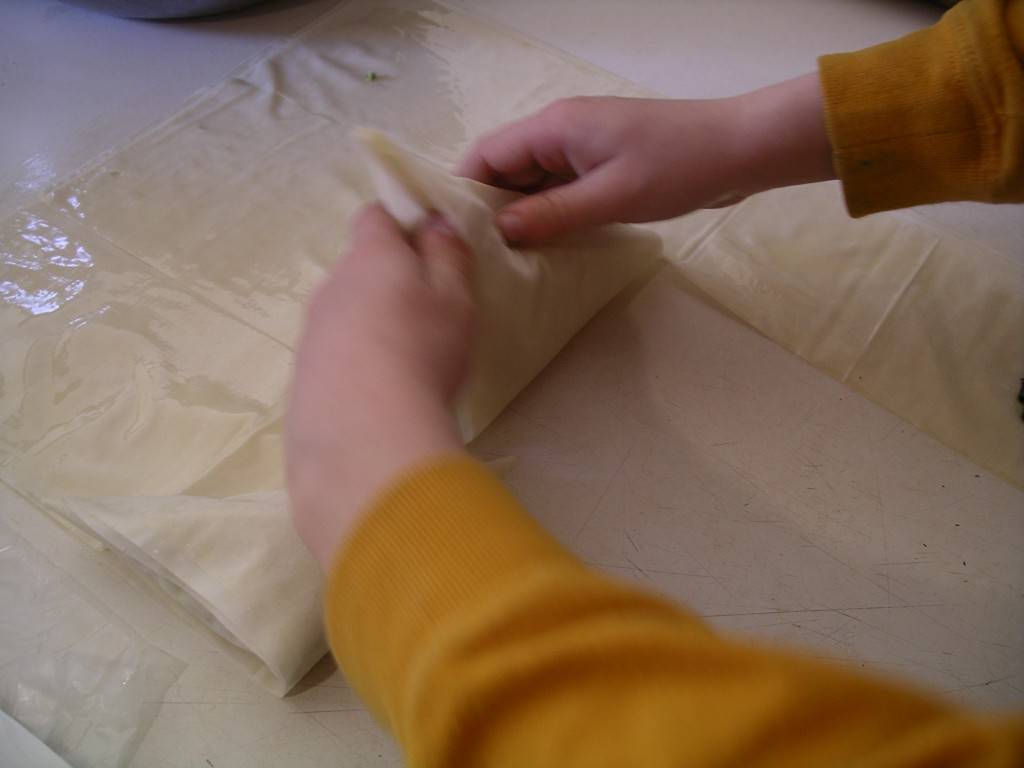 My 6-year-old helping me roll nettlekopita
12. Place the rolled filo on the tray and brush the tops with butter.
13. Repeat steps 10-12 until all the filo is used up. I often find there are one or two sheets left at the end, instead of three to make a last batch. What I do in that case is brush the sheet with butter, fold it into thirds lengthwise, spoon some filling in and roll up one filo pastry.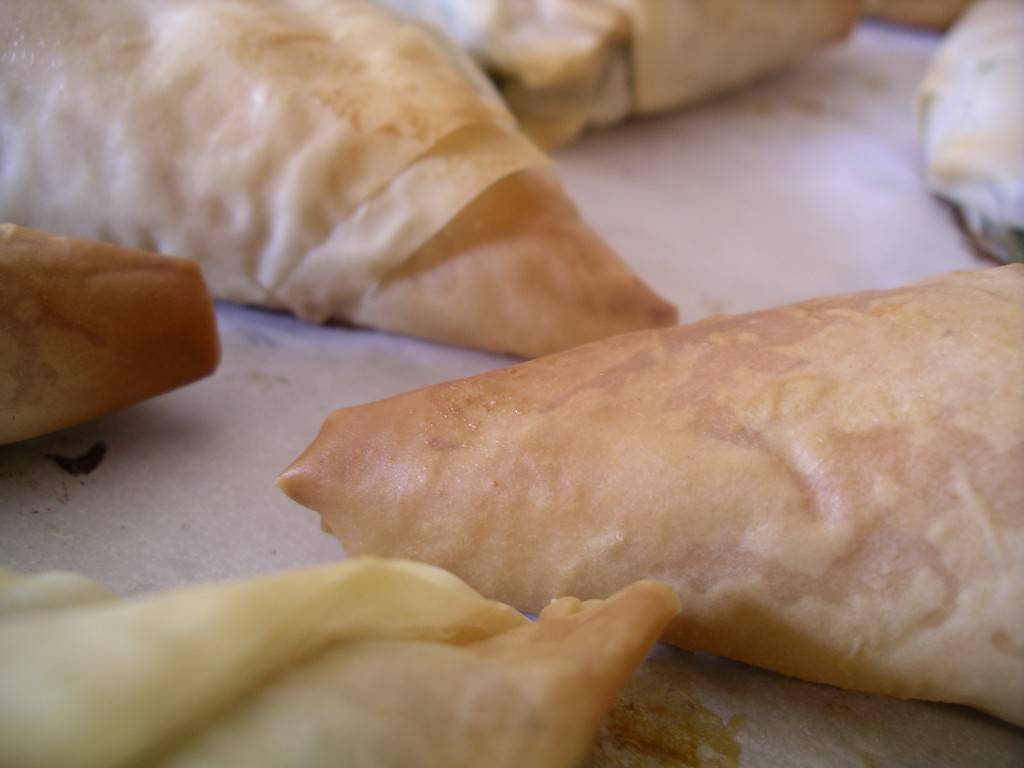 crisp from the oven
14. Place the filo in the oven and bake for 25 to 35 minutes, until golden brown. The trays must be rotated top to bottom and back to front halfway through cooking. Let filos cool on the tray or on a rack for several minutes before eating. Serve immediatey with tzatiki. I find that salad or steamed potatoes make a nice accompaniment.
[end_recipe]
You May Also Like These Recipes:
Categories:
Appetizers
,
Cooking in Season
,
Cooking with Kids
,
Dinner Solution
,
Early Spring
,
Extreme Foodie
,
Feature Ingredients
,
Foodgasm!
,
Heidi's How-To
,
Holiday
,
Local Harvest
,
Lunch ideas
,
My Life in Food
,
Pie
,
Recipes
,
Sides
,
Technique technique technique
,
Vegetarian